Flood Affected Families Receive Livestock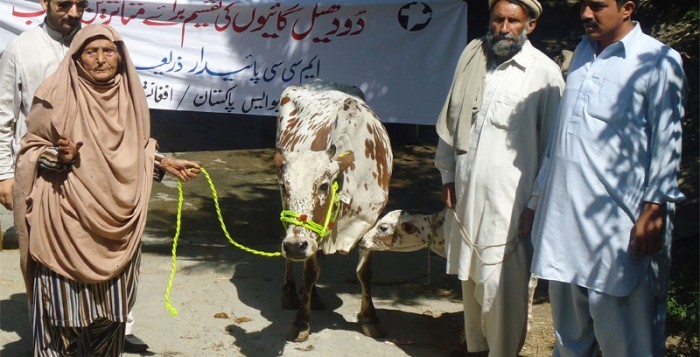 Last year's monsoon flash floods brought an unprecedented scale of destruction to the livelihood opportunities of the farming community throughout Pakistan. For the farming community, livestock rearing provides an important source of income. In addition, families benefit from the nutritional intake of milk, milk products, eggs, and meat. In efforts to restore the lost livelihood opportunities of affected communities in Shangla District, CWS-P/A is working to facilitate the recovery of local livestock based livelihoods.
As many as three hundred families will benefit from the provision of livestock and acquire technical skills in livestock management. These include training on growing improved fodder and the production and marketing of dairy products among female headed households. Similar recovery initiatives were taken by the organization almost six years ago after the earthquake in Pakistan's northern areas for widowed and women led houses in Balakot.
During the month of June, one hundred milking cows and calves were distributed to families in the union councils of Damori and Pirkhana. In order to ensure quality of livestock, CWS-P/A quarantined and observed animals for one week prior to distribution. Only the animals which met selection criteria and were certified by the veterinary officer were distributed. One recipient from Damori shared, "Cows and calves are much better than our expectations and all of us are thankful to CWS-P/A and hope you people will continue good practices in the future as well."
To ensure community participation and long-term sustainability of the intervention, CWS-P/A has trained thirty veterinary extension workers. The workers will further build the skills and capacities of local community members while working to promote the dairy sector in the area.