Fareeda's Story: Her Home and All Belongings Lost during Floods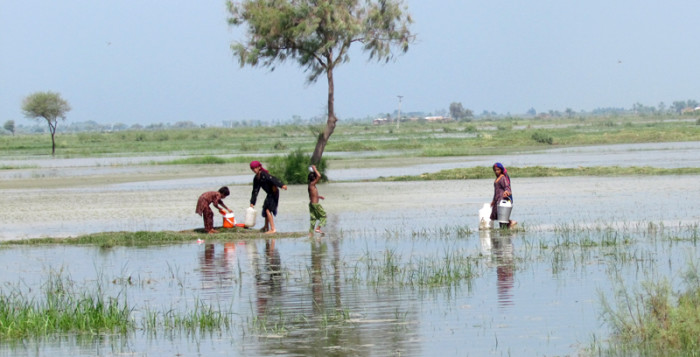 Fareeda, 40, lives with her four children in Munghar Khan Palijo Village of Jugan Shahi Union Council, Thatta. Her elder son works for daily labor wages to support the family while Fareeda earns some money from sewing clothes.
For twenty years Fareeda has cared for her children since she and her husband divorced. She lived with her children in a one-room mud hut until recent floods washed it away.
She shared her experience from August 5, 2013. "I was working in my home when suddenly I heard the screaming voices of my relatives and neighbors. They were shouting that a huge quantity of floodwater is heading toward our village. I just managed to evacuate with my children and take refuge at the rooftop of my neighbor's house with my other relatives and neighbors who had also taken refuge. We were witnessing the whole scene when some of the houses in our village including my house were swept away by the floodwater, and it was in a matter of seconds that we lost everything we had. We were helpless and couldn't do anything.
"The level of the floodwater in our village was about five to six feet, and it remained there for about 6 hours while we all stayed on the roof top till the water had receded. We looked at the locations where our houses used to be six hours ago.
The place where Fareeda's house once stood
"I had some saving for the Eid festival and had also borrowed the rest of the required money from my relative so that I could manage to buy shoes and clothes for my children for Eid, but unfortunately everything had been lost in this flood," Fareeda shared with tears in her eyes.
"Every year the floodwater passes beside our village, but this time the water had changed its route unexpectedly and had stuck our village badly. There wasn't any early warning being made either from government agencies or anyone else; nor was there any announcement so that we could prepare ourselves for the floods."
Fareeda is currently living in a temporary shelter which she borrowed from her relative.
"After the floods, we were just totally dependent on the external support from the government and other humanitarian agencies, but most of them only visited the area and had done nothing. CWS-P/A team also visited our area within three days of the flood and had done assessment. Then, on the second day of the assessment, they came and gave us the tokens. It was a ray of hope to get some support after such a horrible flood incident."
CWS-P/A distributed 50 food packages to the flood-affected families of Munghar Khan Palejo Village as part of a total of 250 food packages that were distributed in Thatta, Sindh to help families meet their immediate food security needs following devastating floods in the area.
"Now, I have received a food package from CWS-P/A team which is a big relief for us in the current situation, especially when Eid festival is approaching. I am very much thankful to CWS-P/A and its staff who support us in such difficult times."