Fact Sheet 2: Pakistan Floods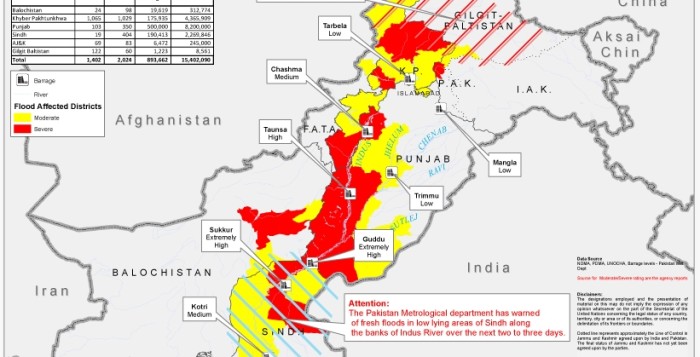 In the next 24-28 hours, River Indus is likely to sustain exceptionally high flood level at Sukkhur Barrage. The mighty Indus is flowing in very-high-flood with rising trend at Kotri Barrage and likely to attain exceptionally high-flood level of 800,000 cusecs, during next 12-24 hrs.
The ongoing catastrophe has affected a population of 18 million (10 percent of the total population of Pakistan), as compared to 3.5 million of EQ-2005, 500,000 of Katrina and 2.2 million of Tsunami.
It has also affected an area of 160,000 square Kilometer (20 percent of entire area of Pakistan), while EQ-2005 affected 30,000 square kilometers and Nargis 23,500 square kilometers.
It is estimated that 800,000 houses are damaged, as compared to 600,000 of EQ-2005 and 450,000 of Cyclone Nargis.  
International Monetary Fund will meet Pakistan Officials, in Washington next week to discuss readjustments in Fund's supported Pakistani Budget. Initially it was estimated that Pakistan GDP growth shrunk by almost 2.5 percent and overall loss to assets is hovering around 6-8 percent of GDP. Pakistan is expected to seek 1 percent of GDP as relief in the fiscal deficit during the negotiations with IMF on August 23, 2010.
USD 490 million raised in aid, with United States, Saudi Arabia and Britain Leading the way, with another USD 325 million pledged. Earlier the UN launched a USD 460 million Appeal, for donation on August 11, 2010 and according to Financial Tracking System, USD 263 million (57 percent) have been donated through Appeal, with lion's share USD 88 million coming from USA. UK has donated 34.7 million, while Australia has given 26.6 million and European Commission 18.6 million.  UN will have to revise its target, within 30 days, following the launch of the Appeal.
According to Foreign Office Pakistan would accept USD 5 million from India, only if it comes through the United Nations. 
The USA provided USD 3 million through Pakistan Red Crescent Society for shelter, immediate health care, access to clean water and sanitation for 25,000 flood affected families.
530 Japanese ground, air and naval troops will be mobilized for relief efforts.
370 villages and 947 roads have been destroyed by the floods in the mountainous regions.
Shortage of meat is expected to increase from 1.1 million tones to 1.55 million tones, as more than 10.1 million animals are killed all over the country. It is to be noted that during the last two years, there has been a 35 percent decreases in the meat business and the employment because of livestock smuggling and export.  It is noted that in 2009-10, livestock has contributed 53.2 percent to the agriculture sector and 11.4 percent to the GDP.
Pakistan Electric Power Company (Pepco) estimated a loss of Rs.10 billion (equivalent to USD 117 million), in the flood effected areas.
The Punjab Food Department, mentioned that flood water had hit eight centers of the department damaging some 80,000 of wheat. Also, 6.5 million acres of crops have been washed away in Punjab and Sindh Province.
In the province of Sindh19 Districts are declared calamity-hit by Relief Commissioner of the Province. The notification mentioned districts of Ghotki, Sukkhur, Khairpur, Nausheroferoze, Shahedd Benazirabad, Jacobabad, kashmore, Kandhkot, Larkana, Shikarpur, Kamber Shadadkot, Dadu, Jamshoro, Mitiari, Tando Muhammed Khan, Hyderabad, Thatta and Badin.(one name is missing in media reports).
Another 25 villages have been submerged underwater after a new flood tide made its way into Gandha Khan locality of Jafferabad. Similarly, 371 villages, 352 villages in Katcha area of District Thatta, 10 of District Jamshoro and 9 villages of pucca area of District Matiari has been inundated.
In the last 24 hours 150,000 people were moved to higher places, as flood water submerge dozens of more towns in Southern part of the country.
In Sindh 4 million are affected and about 2 million are IDPs. There are 600,000 people in relief camps in Sindh province, while number of IDPs in Karachi has reached to 28,000, in 23 relief camps. Due to shortage of space in relief camps, 15,000 are on their own and as such denied of any relief. 
About 600 Hindus, belonging to Baagri and Waghari gypsy communities- roaming and farming in upper Sindh- now IDPs in Karachi- have registered their protest as they are fed with beef in relief camps.
Gastroenteritis is rapidly spreading, claiming lives all over the affected areas; 30 people died last week. In Sibi and Dera Murad Jamali, 70 patients are treated daily for the disease. The wards at Kot Addu Tehsil Headquarters Hospitals are carrying 80 percent of gastro patients, 10 percent malaria and another 10 percent patients of skin ailments.