Fact Sheet 7: Pakistan Floods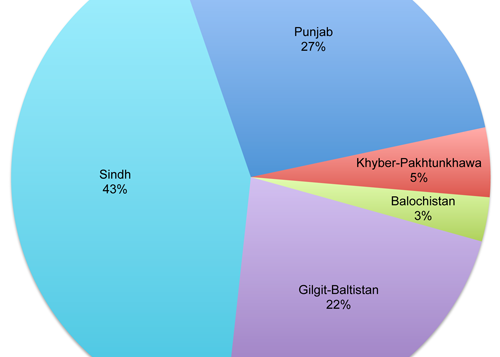 Issued: September 9, 2010, 6:00 p.m.
To cope with the low and slow funding, Government of Pakistan suggested a plan to impose a five percent flood relief surcharge. There is a growing opposition of the surcharge from economists and importers, as they argue, that it will result in the increase of prices of special commodities. Meanwhile, protests over the insufficient relief measures continue in the interior of Sindh. Major highlights of last four days are:
Valerie Amos, the newly-appointed UN relief coordinator, has expressed her concern and disappointment over the weak international response to the UN's Appeal for Pakistan flood and urged donors to '"dig deeper" into their pockets.
ADB decided to divert $1.5 billion from 29 ongoing projects for relief and rehabilitation. That also means that no additional funding from the organization.
The goodwill ambassador, Angelina Jolie, on her visit to Pakistan, announced a donation of $100,000.
The Federal Government is considering diverting to provinces Rs. 100 billion ($1.176 billion) earmarked under Public Sector Development Programme (PSDP2010-11) for early relief and rehabilitation to provinces.
UN will launch its second Appeal on September 17, 2010.
Additional relief goods worth of US$ 240,000 sent by the Government of Japan for flood affected.
Bangladesh has announced $2 million relief assistance for flood-affected.
Because of the procedural issues none of the 20 million flood affected will get the first installment of the cash compensation before Eid
327 million is the amount in rupees ($3.85 million) of the Benazir Income Support Programme's emergency relief package that is being provided in all flood hit areas across the country.
According to UNDP, 12 months is the time for "Early Recovery Phase" (ERP), once, people started returning to their respective places.
According to OCHA Coordinator, 10 million people are without shelter since last six weeks.
According to UN, 8 million people are in immediate need of clean drinking water in the flood affected areas.
More than 5.3 million jobs lost due to floods in 70 affected districts.
According to rice traders, floods have affected more than 708,000 hectares (1.7 million acres) of rice out of the total 2.64 million hectares.
At least 7,820 schools have been destroyed by extreme floods forcing more that 1.6 million out of schools.
Sindh secretary of education has said that a total of 16,900 schools have been affected by floods in the province, forcing more than 300,000 students to discontinue their education.
60,000 is the number of people suffering from epidemics, particularly from gastroenteritis and malaria, in Jhal Magsi, Jafferabad, Naseerabad, Sibi and Bolan, districts of Balochistan Province, in 30 camps.
865 flood victims have been treated for insomnia and panic disorders by the International Medical Corps.
According to WHO, 18,202 cases of acute diarrhea have been reported so far in flood-affected areas.
The province wise break up of affected villages is as follows: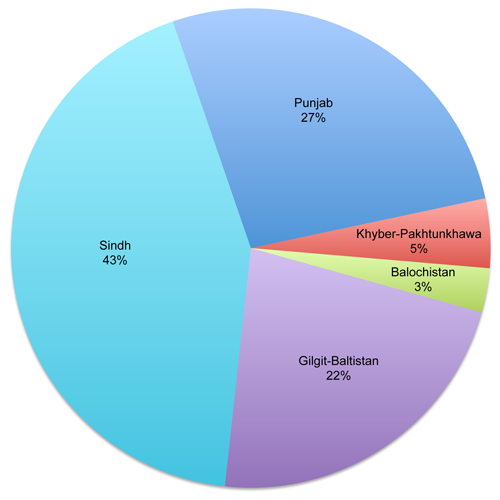 According to the preliminary damage assessment, over 131 million hectares of the cultivated area have been destroyed in Pakistan.
Thousands of flood survivors from flooded areas of interior of Sindh, continue pouring in Karachi. City government has set up seven new camps and the total population in camps now is 74,000.
19 out of the Sindh, 23 districts have been deluged, displaced more than 2.8 million people.
Sindh farm losses is estimated at R. 82 billion and around 5.9 million tons of produce has been lost.