Fact Sheet 14: Pakistan Floods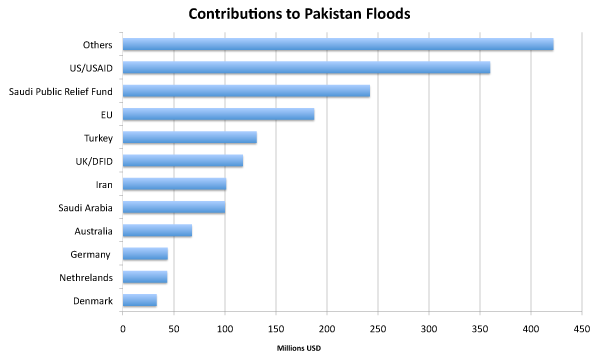 Issued: October 15, 2010, 3:55 p.m.
Turkey, on Wednesday, assured Pakistan of support in the rehabilitation and reconstruction in flood affected areas and hoped the international community would join in the colossal effort. Turkish Prime Minister Tayyip Erdogan, who specially flew into Pakistan to visit and meet flood-affected people, said the sorrows and joys of the people of Pakistan were felt equally by the people of Turkey.
Highlights of the week are:
The financial commitments (includes both grant and soft loan) of international community for flood affected, as of October 11, 2010 are depicted in following graph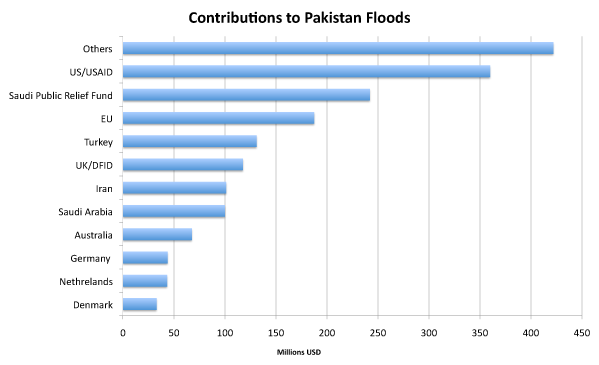 According to the UN spokes man Marin Nesirky $ 668 million is the amount pledged by United Nations member states in aid for Pakistan.
The amount donated by Red Crescent Society of China is $ 50,000 dollars.
204 modern villages are to be constructed in the first phase of rehabilitation of the flood victims. Around 2500 housing units will be constructed and villages will be equipped with basic civic amenities. According to Punjab Government Officials, 1,778 villages in 11 districts of Punjab had suffered immensely.
The annual estimated cost of environmental and natural resource damage as per the World Bank Strategic Environmental Report is Rupees 365 billion.
The Federal government has reduced its Public Sector Development Program (PSDP) by 30 percent from Rupees 280 billion ($ 3.29 billion) to Rupees 196 billion ($ 2.3 billion) for reconstruction and rehabilitation of flood affected areas.
It is reported in media that progress is made into the investigation of canal breaches and 49 people recorded their statements in front of tribunal earlier set up by Punjab government for the mentioned investigation.
In the last two months 200,000 tents and 413,000 tarpaulins have been provided by the United Nations for shelter to those affected by the floods. These are enough to accommodate 467,000 house holds.
As many as 43,000 children in flood-hit areas are being educated in 525 temporary learning centers set up by UNICEF.
30 is the number of non-commercial flood relief radio stations that the international assessment missions has called for setting up in badly affected regions.
Army declared the end of Operation Labaik (for the rescue of flood victims) in Swat area. The Damage Profile of Swat and Shangla is as follows:
| | | |
| --- | --- | --- |
| S. No. | Infrastructure Type | In Numbers |
| 1 | Schools | 190 |
| 2 | Hospitals | 19 |
| 3 | Micro-power Stations | 455 |
| 4 | Mosques | 131 |
| 5 | Bridges | 51 |
| 6 | Shops | 1,279 |
| 7 | Hotels | 115 |
| 8 | Watermills | 111 |
| 9 | Roads | 93 Km |
| 10 | Houses Destroyed | 2,392 |
| 11 | Houses Partially Damaged | 3,037 |
Food inflation rose to 21.24 percent in September 2010 over the same period of last year on account of steep increases in the prices of perishable items following the floods.
Pakistan will be forced to import over 3 million bales of raw cotton to meet the demands of local textile industry as cotton production will remain around 11.5 million bales against set target of 14 million bales in crop season 2010-11.
According to media reports there is a dearth of lady doctors in the camps. Security for female professionals is cited as main reason.
600 is the number Watan Cards issues at Naudero everyday.
While other media sources mentioned shutter down strike in Thatta (Sindh Provinces) on last Monday to overcome the problems faced by flood victims while trying to acquire Watan Cards.
Flood victims in the Rahim Yar Khan district have accused the National Database and Registration (NADRA) officials of issuing WATAN Cards to people who do not qualify for aid.
Rupees. 2.5 Billion (0.029 billion) distributed among 225,000 affected families through Watan Cards, as first installment of Rupees. 20,000 ($235) per family.
Further Readings
Donors need assurance
Reclaiming land a most difficult task
Pakistan, donors in row over utilization of loans