Fact Sheet 04 – Floods-2011: Response – Too Little and Too Late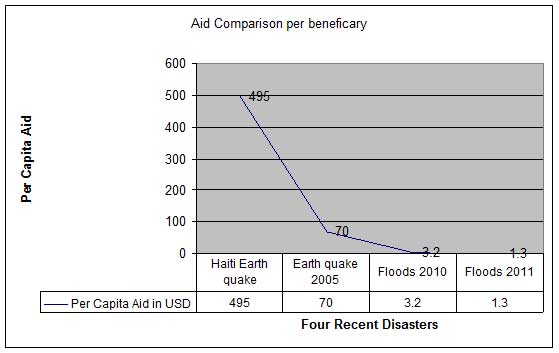 It has been more than a month since the onset of monsoon and subsequent flooding, but relief organizations say that thousands of villages remain inaccessible. While there are conflicting reports, the situation on the ground is "extremely tragic." Between 7 and 10 feet of water is still standing in Badin, Mirpurkhas, and Sanghar.
In the wake of low and slow funding, keeping the flood response issue alive is truly becoming a nightmare as the following table depicts:
UN Flash Appeals for Pakistan Floods
Flood Relief and Early Recovery
Response Plan 2010
Pakistan Rapid Response
Plan 2011 (On-going)
Duration
August 2010 – July 2011
September 2011 – March 2012
Funding Requirement
$1,963.4 million
$356.7 million
Funding Amount
$1,373.4 million
$19.9 million
Unmet Requirement
30 percent
94 percent
Major Donor (%age of funded amount)
US 31.8 percent
Japan 18 percent
UK 8.4 percent
Private 8 percent
Japan 45 percent
US 40 percent
Australia 13 percent
Sweden 1.6 percent
According to NDMA, recent torrential floods killed 433 people and injured at least 755 more. More than 8.9 million people are affected in Sindh with approximately 665,000 people living in camps. Floods damaged an area of 6.791 million acres, 32% of which is damaged crop land. According to NDMA, floods have affected all 23 districts of Sindh Province
The Per Capita aid figures as cited by OXFAM International is depicted in the following graph:

A total of 580,064 houses are damaged while another 644,709 houses are partially damaged according to NDMA.
According to the UN, the floods have wiped out 73 percent of standing crops, 36 percent of livestock, and 67 percent of food stocks in the 13 worst-affected districts of Sindh. In a province where already 72 percent of the population is acutely short of food, the loss of crops means hundreds of thousands of more people do not have enough to eat. Monsoon floods that sunk Pakistan's arable belt for a second year running have piled farming losses clocking up to nearly $2 billion on top of a humanitarian catastrophe facing up to eight million people in the south.
Ringing the bells health experts warned that the dengue threat is serious in around 25,000 sq. Km. where authorities have yet to wake up and drain out the standing rain water which remains clean till the time sewerage mixes up.
20.3 percent of the people displaced by floods are living under open skies without proper shelter according to INGO World Vision.
There are roughly 2.2 million people in Khairpur district of which 900,000 have been affected
Around 25 percent of the 8.8 million flood affected population is in danger of contracting various kinds diseases as cases of malaria, cholera, upper and lower respiratory tract infections, and skin diseases have been reported.
According to UNICEF, 2.7 million children are among the affected.
More than 87,608 livestock have perished by floods in Sindh while crops like cotton, banana, dates, chili, and sugarcane on 2,800,000 acres have been destroyed or severely affected.
The impact of floods in Southern Sindh has taken its toll on the retail markets all over the country as the supplies of tomato and other vegetables have almost been cut off.
1.5 million family-ration packs have been distributed by the National Disaster Management Authority among flood-affected people of Sindh since the floods struck.
Sindh Chief Minister has directed the District Relief Committees to expedite the measures to early drain of rain waters from areas on priority basis in flood affected areas.
NDMA would provide 70,000 to 75,000 packs of ration per day and 15,000 tents while PDMA has arranged delivering of 10,000 mosquito nets.
Personnel of the Sindh Police would donate one day's salary to the prime minister's relief fund for the rehabilitation of the flood affected people of the province.
The Food and Agriculture Organisation (FAO) is seeking urgent donor support to help farmers hit by rain and floods. The organisation hopes to raise $18.9 million and use it to provide emergency livestock support and agriculture packages to over 300,000 families in Sindh and Balochistan.
Rs. 60 million (USD 0.68 million) will be provided by France to the NDMA to the appeal made by United Nations.