Ensuring Women's Right to good health in remote Afghanistan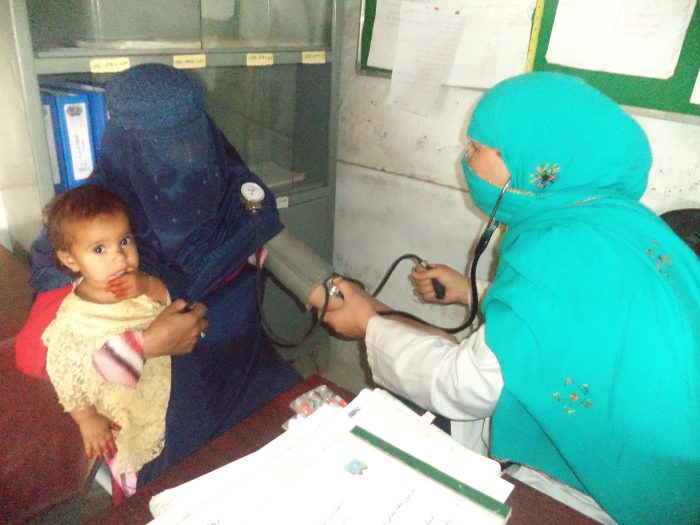 Since 2015, Community World Service Asia with the support of PWS&D, has been providing health services in four districts of Laghman province, Afghanistan. As part of this intervention, two sub-health clinics, one in Nawdamorra and one in Surkhakan, of district of Qurghaie, have also been set up.
Fahima, a mother of four, lives in Nawdamorra with her husband and children. Her youngest daughter is four years old, and the couple has chosen not to have any more children because of the financial strain it would put the already struggling family in. Fahima's husband earns through daily labor work in Jalalabad city; so his income is unpredictable as it is dependent on finding work each day. Fahima engages in farming in a small plot of land. Currently, she has cultivated wheat and corn, and the amount of her work varies with different seasons. She does everything to harvest these crops on her little plot: irrigating, shoveling, and reaping. One day, Fahima was in the fields lifting heavy loads when she felt intense abdominal pains. She realized that she was pregnant, and the couple decided to abort the child as they could not financially afford to support another child.
However, life had something else in store for the family. A few months later, Fahima conceived again. In March this year, she found out about the local sub-health center in Nawdamorra, through another woman, from a nearby village she met. This woman told her that they were going to the sub-health center to receive treatment for general illnesses, vaccines, and to get medical support during pregnancies. This came as good news to Fahima and encouraged her to get a complete check-up and receive advice in relation to her health. Fahima decided to go to the health centre with these women.
At the sub-health center, Fahima shared her medical issues and her pregnancy history with the midwife. Based on Fahima's information, the midwife recorded Fahima as an Anatenatal Care patient. Following Fahima's trip to the sub-health center, the village lady health worker visited Fahima for a follow-up. Since then, the midwife from the sub-health centre, has also come to see Fahima thrice to guide her on taking care of her health and the baby's. She received advice on taking a balanced diet, a session on health and hygiene and to avoid picking up heavy loads and overly exhausting herself. Fahima has been following all the advice that the midwife and the health worker gave her.
It is my hope to deliver my baby as safely as possible and to be a mother of a healthy baby. If I follow all the medical advice the midwife and the health worker have given me, then I believe that this hope will become a reality. I also appeal to Community World Service Asia to continue these services for destitute and needy people like us.