Ensuring Healthcare Services in Afghanistan meet latest Quality Standards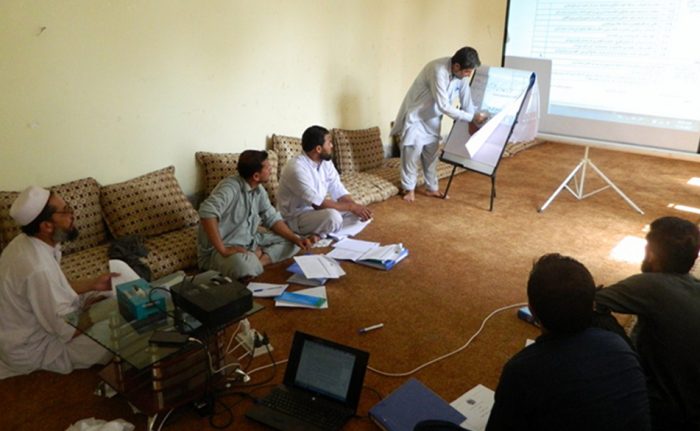 A vital aspect of any health program is quality assurance. Quality assurance allows health programs to effectively provide their services at a reasonable standard. The Ministry of Public Health in Afghanistan has developed a new quality standard: Harmonize Quality Improvement Program (HQIP). The HQIP has replaced the previous quality assurance standard being implemented by all non-government organizations in Afghanistan. This standard measures the quality of health programs through indicators that scores between three ranges – NA, 0 and 1. These indicators measure particular health areas such as reproductive health, infection prevention, health facilities' management, management of target diseases, management of drugs supply, vaccines, and neonatal care. In order to implement and mainstream the HQIP standard among all of its health programs, Community World Service Asia conducted a training in its Jalalabad office in July this year.
Dr. Hedayatullah Noor, the Health Management Information System (HMIS) Officer, and Shughla Qahir, Reproductive Health Coordinator, at Community World Service Asia, both of whom have been previously trained on HQIP by the Ministry of Public Health in Afghanistan, facilitated the six-day, in house training.
Sixteen staff members, including five nurses, five midwives and six lady community health workers, of our Mother and Newborn Child Health (MNCH) centres took the training. The participants were divided into three batches, each covering two days of the training. It was a great learning opportunities for the health staff as none of them had previously received a training on the HQIP.
This quality assurance training aimed to enable our health practitioners in comprehensively understanding the HQIP standards, self-asses their health services' standards, and to ensure the provision of quality healthcare services in their respective health facilities. The topics covered in the training included an introduction to the standards, gaps findings, analyzing the gaps, ways and planning for filling the gaps, networking and benchmarking, and description of the HQIP checklist.
Most of the sessions conducted were in the form of two-way discussions and group assignments. One such example was the session on Infection Prevention (IP) which focused on achieving safe deliveries, performing safe injections, safe vaccination and others. The use of Personal Protective equipment (PPE) was pointed as essential while attending delivery, during dressings and administering injections to prevent infections from spreading. Safe waste disposal of 0.5% chlorine, sharp objects and other medical and non-medical waste was also discussed to be adopted in all the health facilities.
Another key session in the training focused on protective measure for newborns. This raised the concept of the 6 Cleans; clean hands, clean clamp of cord, clean cutting of cord, clean cloth for drying the baby, clean clothes for covering the baby and clean surface. Furthermore, resuscitation techniques, cleaning the baby's eyes, BCG vaccination, early breast feeding were also part of the Newborn Care session. The training included a session on Management of Reproductive Health which covered various topics from providing nutrition and iron tablets to pregnant mother to Antenatal and Postnatal care checkups, to family planning and practicing safe deliveries.
The workshop was as interactive as it could be, utilizing various teaching tools such as computers, multimedia, charts, lectures, question-and-answer sessions, group work, and consultative discussions. Participants also took particular interest in practicing filling out the HQIP checklist. The HQIP checklist is used to identify the gaps related to each indicator in health facilities, so the participants used their "practice HQIP" checklist to make a plan for improving the gaps identified.
The HQIP checklists will be used every three months to ensure that health care provided by our MNCH health facilities in Afghanistan are meeting the new quality standards. Hamdullah, one of the participants and a nurse from Badiabad village in Alingar district, Laghman Province, shared,
This training was a new learning opportunity for us which will help us to further improve our services in the health facilities.