Enhancing Vocational Skills for Sustainable Livelihood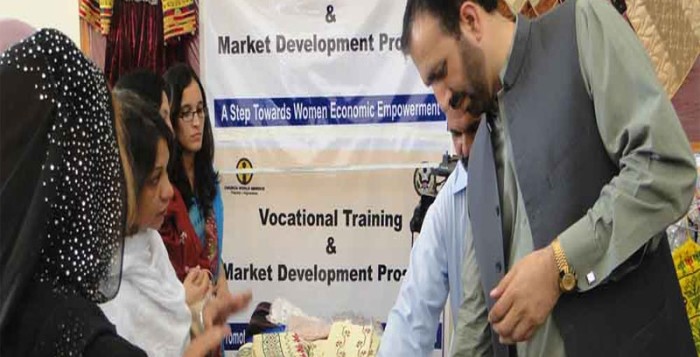 For more than thirty years, CWS-P/A's support to the Afghan refugees residing in the camp of Barari, Khaki, and Ichrian and to the surrounding communities ensured access to basic health care and medicines. More recently, CWS-P/A initiated a comprehensive vocational training initiative that aims to improve the economic status of refugees and host communities by building technical skills of the most vulnerable men and women. The Vocational Training and Market Development program is designed to not only build technical capacity but also to establish access to dignified livelihood opportunities for marginalized communities.
The trainees participate in four-month courses in respected trades including tailoring, beading, and embroidery for women and auto mechanics, welding, and electrical work for men. As participants gain vocational skills, CWS-P/A also assists them to access local job and business markets. Fresh graduates are in a stronger position to attain better employment opportunities to enter the skilled labor market or establish their own businesses because they earn certification from the Government Trade Testing and Skill Development Boards after successful completion and passing the examination. In 2010-2011, 208 out of 300 trainees secured employment in their respective fields and 150 graduates were able to increase their household incomes by 40 percent.
For the 2011-2012 phase of the project, fifty-eight men and thirty-seven women completed their respective courses, received tool kits, and are prepared to begin practicing their trades. During the sessions, trainees were exposure to potential employers due to CWS-P/A's outreach for securing employment and market accessibility. Thirteen women connected with the market in Mansehra District, and thirty potential employers were approached for job security of male graduates. A second group of 106 trainees are currently attending their respective courses.
During November, CWS-P/A provided additional support to the trainees which included training on curriculum vitae (CV) writing and career counseling. The project goals and objectives are also discussed so that trainees understand the vision and to ensure anticipated outcomes are achieved. To ensure transparency and accountability, CWS-P/A also introduced the trainees to its complaint response mechanism. Trainees were informed how to lodge a complaint and the procedures which follow until its outcome.
In partnership with one of the potential employers in Abbottabad, Shop for a Cause was established by one of the graduates to display his products. In November, CWS-P/A also financially supported a cultural festival in collaboration with other stakeholders to display the products produced by the women of Barari. The Federal Minister for Skill Development, Shahjehan Yousuf, visited the festival and appreciated the efforts of CWS-P/A for designing activities to promote sustainable livelihood which allows the trainees to lead productive, self-sustainable, and dignified lives.