Enhancing the Capacities of Pakistani Youth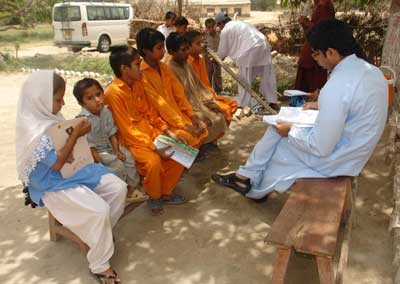 "The knowledge gained from this workshop is important for us because topics like gender and sex are not openly discussed in both schools and home," shares Madiha Irfan, a student in Karachi.
Among seventy-two other participants, Madiha attended CWS-P/A's workshop, "Human Rights, Peace, and Harmony." The workshop is one aspect of the Sindh Political Education Program which aims to develop teachers' and students' understanding of social and political issues.
Since 2003, SPEP has prioritized empowering students and their teachers from less privileged schools to ensure a more democratic culture. Workshops are one medium through which students from various backgrounds interact with each other. Knowledge sharing and group activities encourage a culture that is tolerant and respectful to diversity regardless of religion, social status, and gender.
"Creating awareness on human rights through a participatory approach is just commendable," says Mussarat Bakhtiar, a school teacher present at a recently held workshop. She adds, "The session has been informative and enjoyable for both students and teachers. I was happy to see girls and boys interact and this is necessary mainly because of a strong emphasis placed on segregation." Persikla, another school teacher also present at the same workshop shares, "I will keep refreshing the minds of my students with everything learnt and share the knowledge with other teachers who were not here so that they teach their students."
Her commitment to pass on the knowledge is comparable to that of the CWS-P/A's project staff in their seventh year of ongoing efforts to promote human rights, peace and harmony.
Incorporating Peace Education into School Curriculums
At the same time, the Peace Education for Primary Schools project under the Capacity Building Program has aimed to promote an environment of peace, harmony, and tolerance amongst Pakistani youth. For almost three years the project has empowered teachers to include peace education as a vital component of their curriculums. A total of five hundred workbooks have been distributed to students while thirty teachers attended orientation workshops at the start of the year.
There remains no doubt that students enjoy the subject and appreciate their new workbooks. Soogna, a class five student, shares an example of how she applied the course knowledge in a small quarrel with her classmate over a slate. "I realized there is no point in destroying a friendship over just a slate," says Soogna. "I only understood this after a peace lesson was taught to our class by the teacher." She adds, "We decided on saving money in order to buy the slate and now we each have our own."
Remarkably at another school in Kot Ghulam Mohammad, students formed a peace committee. Partab, Madan, and Asma express, "We noticed students were continuously arguing over classroom seats so we decided to set up a peace committee. Our committee has a vision as well which is not just to solve conflicts between students but to help them in their problems and the problems which arise within our communities."
Project staff at CWS-P/A had previously faced obstacles in getting teachers to incorporate the subject in to the schools' curriculum. Certainly, these steps which may seem rather small are positive indicators for bringing about change in Pakistan.