Enhancing Teaching Skills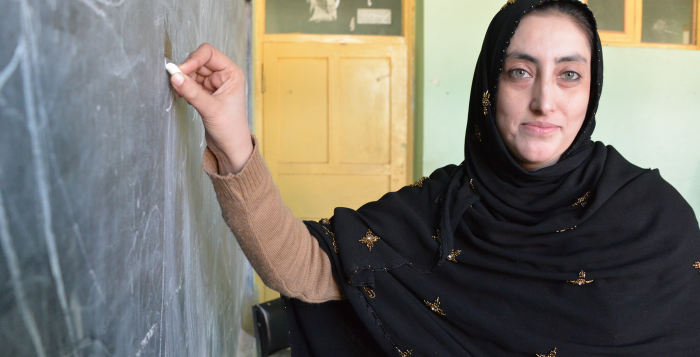 In a country where just 16% of the workforce is female, teaching women science subjects can help foster greater equality, empowerment and economic stability. Community World Service Asia holds teacher training workshops, through which aim is to improve education quality and community's awareness for enhancing and sustaining enrollments in girls' schools in Behsood district, Nangarhar province. Despite of the limitation teachers are eager to learn more and are interested to enhance their teaching skills. On this Women's Day we spoke to a young Chemistry teacher; Huda from a local girls' high school, located in Behsood.
Huda:
"I am very pleased to have participated in the chemistry workshop, since I studied chemistry at a teacher training institute but only learnt it in theory. In this workshop however, we learned practical and conducting experiments. When I learned the philosophy, methodology with practical experiments I became more clear about the concepts and highly motivated to transfer what I learnt by continue teaching chemistry to my students."
She added:
"We received methodic learning and used low cost and no cost teaching aids. We are now implementing those methods. My aim is to teach students according to their needs."
When asked about the suggestions to improve subject base training, she said:
"The workshop was great and useful, but I felt the days were less for three science subjects. If the days were increased from 4 days and teaching aids for Grades 10th, 11th, 12th chemistry lessons could have been included to solve all of our problems accordingly."
In a highly conservative country where up to 85% of women have had no formal education, and only 16% of the workforce are women, in many ways these students are the lucky ones.
"
Still, according to the students, they face problems at home as their families do not allow their young daughters to attend school. Some only allow them to learn basic reading and writing. Yet, most of the girls are very motivated to learn sciences."
Says Huda
She added:
"According to methodical topics, I found the morning meeting session as very important. First I thought of it as not useful to be implemented in class, but when I practiced in these meetings among students it proved to be very effective and useful. Students interest increased a lot and they loved interacting with each other and also started participating during lectures. This even led to a decrease in absentees and now up to 90% of the students have regular attendance Moreover, before these sessions, we used to scold students, but now we motivate them through different techniques in teaching. In teaching science my students saw how they did not need to bear extra cost for learning science. This acted as a great incentive for them."
She also spoke about her personal aspirations:
"I am also very interested and motivated to complete my higher education."
In the end she said:
"I suggest to expand subject based training to other untrained teachers. Teachers who have participated should implement their learnings in their classes to motivate and stimulate the learning of their students for a better future for these young girls"
The story from Afghanistan feeds into a wider struggle going on throughout the world to get more women into Science. While cultural barriers threaten the dreams and aspirations of young women and girls, the opportunities they can find through the science show them a larger world than the one that they have always known.
*Editor's Note: This story has been revised to further protect the privacy and therefore safety of students and staff at the schools.