Enhancing Quality and Accountability throughout Project Cycle Management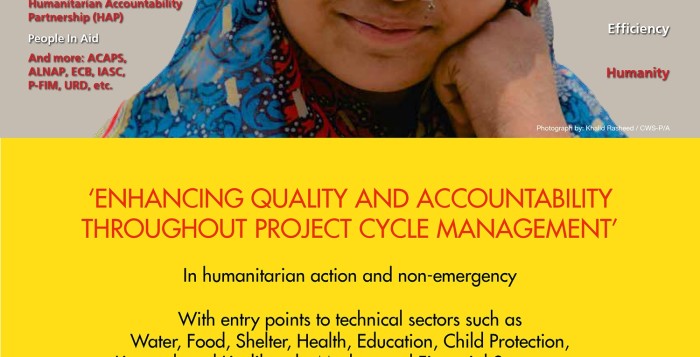 CWS-P/A is organizing a 5 day multi-agency course titled "Enhancing Quality and Accountability throughout Project Cycle Management" in humanitarian action and non-emergency with entry points to technical sectors such as Water, Food, Shelter, Health, Education, Child Protection, Livestock and Livelihoods, Markets and Financial Systems etc. on January 19th – 23rd, 2015 in Bangkok, Thailand.
This course is a unique opportunity for all agencies, as it is focusing comprehensively on Joint Standards and is being promoted for the third time in the region. It aims to gather professional humanitarian workers from INGOs, NGOs, UN, donors, universities and government agencies from around the world who are leaders in promoting and implementing approaches for enhanced quality and accountability (Q&A). It will also allow individuals to understand the significance of linkages between various standards and assist agencies in collaborating and coordinating with various actors towards a common goal.
Methodology:
The methodology will be very participatory, allowing participants to be involved in a dynamic way at all times through presentations, debates, experience sharing, group work, learning pairs, writing workshops, design of proposals and recommendations, etc. The course will be conducted in English – Sylvie Robert has designed this course and would be the main facilitator, with Rizwan Iqbal, co-facilitator from CWS-P/A.
Quality and Accountability initiatives considered:
The Sphere Project and its companions: CPMS, INEE, LEGS, MERS

The Core Humanitarian Standard

Humanitarian Accountability Partnership (HAP)

People In Aid

And more… ACAPS, ALNAP, ECB, IASC, P-FIM, URD, etc.
Course aim & Objectives:
By the end of the course, you will be able to:
Identify the key Q&A initiatives and their tools;
Select and adapt existing Q&A tools and resources to overcome challenges unique to your context and the specific sector(s) in which you work;
Outline the opportunities and challenges faced by humanitarian workers in implementing Q&A approaches and tools throughout the project cycle;
Identify means by which you and your colleagues can collaborate and coordinate with other agencies to improve the quality and accountability of a humanitarian response.
Who Should Apply?
This training is designed primarily for field aid workers and field coordinators from INGOs, NGOs, UN donors, universities and government agencies. Participants to the course will be individuals having specific responsibilities linked to: quality and accountability, monitoring and evaluation, involvement in disaster management (prevention, mitigation, preparedness and response). Participants should be able to apply the learning after the training. INGOs are encouraged to support their partner agencies to attend the training. We strive to have a diversified group of participants balancing gender, organisational and geographical representation. Please consider if:
You have experience in managing projects or programmes
You attended previously a workshop/course on one of those Q&A initiatives
You have some basic knowledge about the Q&A initiatives and are implementing Q&A approaches and tools at a minimum level
You are a leader in promoting Q&A
You have a 'good enough' command of English
How to apply?
Follow this link to access detailed information about this course (training brochure): http://www.cwspa.org/download-document/344-enhancing-quality-and-accountability-throughout-project-cycle-management
and to register fill out the application form (http://bit.ly/1v9u8rK) and send it along with your resume to (shaprograms@cwspa.org.pk) by November 25th, 2014.
Should you require further information, please feel free to contact us at: shaprograms@cwspa.org.pk | Website: www.cwspa.org