Empowering Girls through Education in Afghanistan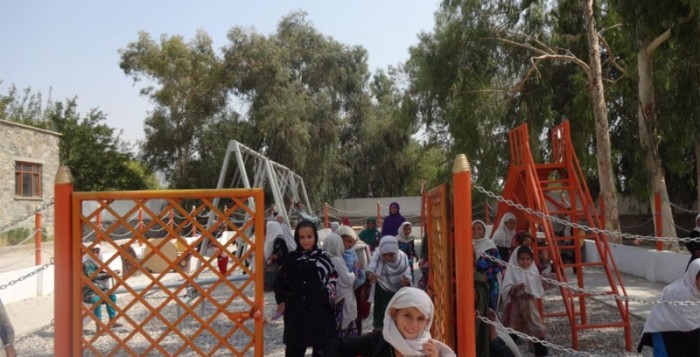 CWS-P/A has been promoting and facilitating girls' education in Afghanistan since 2009. The Taliban regime specifically targeted the education of girls, claiming that it was against Islam, and threatening parents who wished to send their daughters to school, teachers who wanted to teach them, and even the girls themselves. Many schools were attacked and destroyed throughout the country. Since the fall of the Taliban in 2001, huge achievements in education have been made, with enrolment increasing from 900,000 to an estimated 8.1 million in just ten years (UNICEF figures). This progress is a testament to the commitment of the people of Afghanistan to the rebuilding of their country. Ahmad Gul, an experienced male teacher, explained, "In the last three decades, there was no education because of the destruction. Now, people are getting educated, especially girls. Without education, people lost everything. Now, everyone is very motivated, teachers and communities, although there is still a problem with girls' education, because when a girl gets married, her income [earned as a result of her education] will go to her husband's family." Poverty and cultural conventions continue to present challenges, but the dedication of these teachers to providing quality education is evident.
However, a strong climate of fear remains. Many parents are still afraid to send their daughters to school out of concern for their safety. 60% of schools do not have secure buildings, and for many in remote areas, the walk to school alone is too great a risk. The lack of female teachers also discourages many parents from enrolling their daughters due to cultural traditions which make it inappropriate for girls to be taught by a man. This of course creates a self-defeating cycle whereby a lack of female teachers prevents girls from becoming educated, which in turn means that there is a lack of girls with the education to become teachers and fill this gap. In addition, the poor quality of education, due to a lack of resources and an absence of teacher training, results in high rates of absenteeism and of dropping out altogether.
CWS-P/A is, therefore, working to enable girls to access education, through community awareness workshops on the importance of education for girls, and to improve the experience of education for students so that they can benefit from meaningful learning. In September 2014, a workshop was held at Mandrawar Girls' High School in Laghman, Afghanistan for 25 female teachers from six schools. The workshop provided in-depth training on innovative teaching techniques which present a move away from traditional rote-learning methods toward child-centered, participatory learning. Teachers also explored low and no cost materials to enable them to conduct creative and engaging lessons for their students within the constraints of limited resources.
Malina, a participant at the training, shared how important teaching was to her. "When I first came to school, I was twelve years old, and from that time I decided I wanted to become a teacher, but when the regime of the Taliban came, we lost everything." Malina faced many obstacles as she pursued her teaching career, but the importance of education stayed clear for her. "Without education, we cannot develop," she says. "Men and women are able to equally understand things. Women and men both can change their circumstances and the foundation of the country." She had also attended a previous workshop held by CWS-P/A, and explained why she was so interested in these trainings. "I want to learn new methods. If I am a quality teacher, my students will get a quality education. I implemented a lot of techniques in the classroom, and nowadays the students are very happy."
Mirwa, the head teacher of the school, who had also previously attended a CWS-P/A training workshop, shared the impact of the training on the school: "On a daily basis, I'm going to my classes and observing the activities of the class. If anything is outside the good methodology we learned, I take a note of it and give advice to the teacher at the break. We all meet together regularly to discuss the methodology of the training and how we can use it in our classes."
Razia, a female teacher at the school, shared that her students are responding very positively to her new teaching methods. "The students are very active and they ask many questions, especially about the history of the country. These workshops are very important, especially for primary level, because students must be motivated to be active. Before the training, teachers were just talking and talking, but this training shows teachers how to engage students, how to help them to participate, and how to guide them in their own learning."
Mirwa agrees, saying that the children are learning more now that the teaching is more active. "Before, the students were just sleeping. Now, the teachers have these methods to guide the students, to learn through play. We understand how to use low and no cost materials."
Fazila , a language teacher at Char Bagh Girls' High School, shared how the training had been useful to her: "Training was interesting and bookmaking was an appealing activity for me as a language teacher. I liked working in groups, making charts, family involvement, and morning meeting." Another participant, Khatira, from Mashkail Girls' High School, explained how valuable the practical training was for her, as opposed to the theory-based government trainings she had attended previously. "I also liked the training on the basis of practical work which we have gone through. I teach biology to secondary grades so I will adapt book making activity with them and sharing jobs, daily schedule, and class rules for good classroom management as we practiced here."
Sawana, a tenth grade student, says that she enjoys her classes very much due to the new teaching methods. "Science is my favorite subject. I want to be a doctor." Sawana's family is very happy that she is attending school, but she knows that this not the case for many girls in Afghanistan. "I request all parents to allow their girls to come to school," she says. "Girls should come to school because this destroyed country needs education. Only with education can we get a good country." Arzu, an eleventh grade student, added, "Education is the right of the country and the people, to get education to serve the country."