Educator Acknowledges Advancement in Girls' Education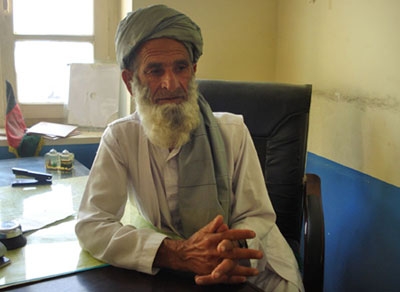 Abdul Raif, Headmaster of Qarghai Girls' School, shares his views on education and the girls' education project. Recalling the situation when he joined the school, he accounts, "initially the numbers of girl students were few, and it was difficult to get girls into schools; however, three years down the line it is heartening to see a substantial increase in enrollment figures. This is largely due to the awareness generated by the project intervention and complemented by the improved security situation." Today his school boasts of 854 girls and 25 teachers, of whom 13 are female, an impressive figure by Afghan standards.
"My experience has been good thus far, and my old age has ensured community support for girls' education." However, it has not been easy. Abdul acknowledges several setbacks including insufficient support for improving education and the disruption of classes during periods of rain because of the shortage of classrooms and that classes are held outside. Under the project, some basic repairs such as fixing broken window panes and the installation of mesh have taken place, but Abdul says much more is required. He hopes the project will extend support for upgrading the school's infrastructure in the future.
Two components that set this particular project intervention apart from others according to Abdul are "the provision of teacher training, which has transformed the quality of education being imparted in the classroom, and the provision of basic stationery, textbooks coupled with regular follow up by project staff which has immensely enhanced the qualitative output."
Abdul acknowledges that continued support and a stable security environment are essential to further development. He asserts, "Education constitutes a key building block for building any successful society and providing security to its people. However, such initiatives can only be successful if they also include women and draw them into the socio-economic life of the country." Fifty percent of the country's population is youth; convincing people of the significance of education as an investment in Afghanistan's future which will be shaped by the young population is pivotal.
Written by Raghav Sharma