Early Childhood Education Teacher's Training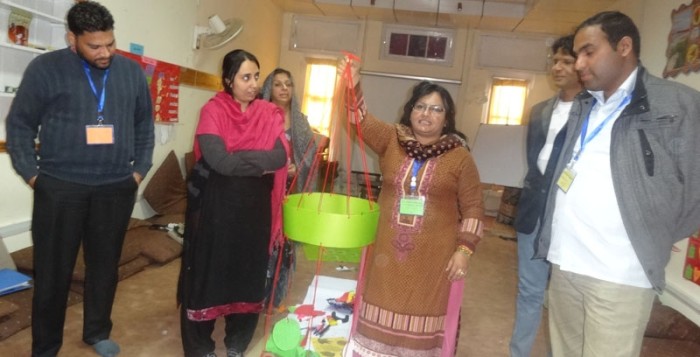 April 2014
During April 2014, Church World Service –Pakistan/Afghanistan (CWS-P/A) brought twenty-one teachers from public and private organizational schools together for a hands-on learning experience. The five-day workshop at CWS-P/A's training center in Murree focused on the concepts and ways to effectively implement early childhood education.
Thirteen female and eight male teachers from Sargodha, Gujranwala, Kasur, Islamabad, and Lahore were selected for this workshop based on their interest to learn new skills and ability to provide training to other teachers. They came from either the formal or informal primary education systems. Today's children face social, political, environmental, and technology issues; therefore, it is important to set up a value system which provides diversified and better learning opportunities.
In Punjab, 50% of the population's ages are between 5-9 years. Due to the lack of facilities and deteriorating standard of education, there is a decline in enrollment in state-run primary schools.
The facilitators engaged participants through activities such as role plays, group work, storytelling, and developing low or no cost teaching material. Handouts and story books were also distributed among the participants. It is hoped that improving the quality of education will help lead to improved enrollment and graduation rates.
"This training is very effective since it was skill and knowledge based. Now, I can also build capacity of other teachers on early childhood education methodology and can practice lots of new teaching techniques I have learned during this five-day workshop," shared one of the participants.
In addition to the involvement of teachers, the facilitators explained the value of family and community participation in the early years of a child's educational development. The participants expressed enthusiasm and commitment to replicate and share their new knowledge with other teachers and community members. CWS-P/A further assisted the participants by providing them materials to implement their skills and knowledge.
CWS-P/A developed its teacher training program in order to enhance the knowledge, skills, and attitude of teachers so they can understand different methods of organizing and managing classrooms. It further aims to ensure that the learning environment in schools promotes the physical, social, emotional, and cognitive development of children. The organization customizes training to meet the specific needs of teachers from different areas in Pakistan and Afghanistan. By learning from participants and the training experiences, CWS-P/A continuously improves and adapts its training program in order to maximize its impact on teachers and their classrooms.