Doctors Discuss Health Needs in Swat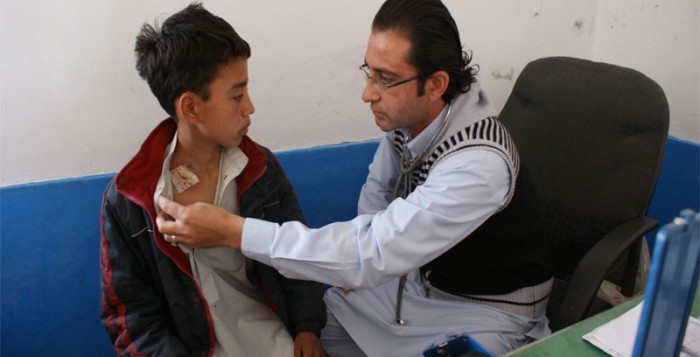 Six months after the devastating floods in Pakistan, Church World Service-Pakistan/Afghanistan continues to assist survivors in meeting their health needs in Swat District, Khyber Pakhtunkhwa Province, Pakistan.  "There continues to be much need for healthcare facilities and to serve the poor whose living standards have further declined due to the emergency," says Doctor Qaiser Jan, managing the organization's health response in Swat District. "An average of two hundred fifty patients per day says a lot in aftermath of the floods. We still have cases of diarrhea and this links to the poor living conditions of flood survivors. "
Doctor Rohmana Ayub, at the mobile health unit located in Gullibagh in Charbagh Union Council adds, "Diarrhea cases remain high especially among children whereas, from the beginning of winter there has been a rise in upper respiratory tract infections.  The female doctor further shares, "Both women and children are still vulnerable and in a day I consult as many as one hundred twenty women and children."  Over five thousand hygiene kits have been distributed to community members and more than one thousand hygiene sessions have been held as of December on a range of topics including family planning, child spacing, and nutrition.
In mid-January, Sadia, a thirty-two year old woman visited CWS-P/A's basic health unit in Segram. Sadia shared with Doctor Syed Sajid Ali that her four children are all not well. Her youngest child, Ushna, has been diagnosed with a respiratory tract infection which has been passed on to her other children. She shares, "Her husband has a psychiatric disorder since almost three years. When he is well, he is able to work and brings home money from his work as a daily wage laborer." Further Sadia says, "And when I do have some money, I go to a quack doctor who charges Rs. 150 ($ 1.74) as consultation fees and an additional Rs. 150 for medicines.  Through this basic health unit I receive proper care for my children and myself. "
The health unit caters to approximately eighteen thousand community members who have no hospital or any other health facilities located nearby. Doctor Sajid adds, "Communities appreciate the services at this basic health unit for its good quality and it is the only one they have access to. Moreover the free medication helps them because they are unable to afford the rising cost of medicines and basic health services." There is no doubt that community members continue to face many hardships after the country's worst floods made its way across the four provinces in late July and early August.
"Access to clean water is certainly a problem for communities.  The surrounding area is a difficult one; the rugged and hilly terrain has water shortages making it even harder for communities to maintain their necessary hygiene, shares Doctor Sajid. Many survivors still remain at risk of food insecurity, disease, and homelessness and coping with survival challenges for communities residing in these high-altitude areas poses further hardships.
While CWS-P/A's health staff members demonstrate much commitment they continue their endeavors in serving the most vulnerable communities located in Swat District at the same time ensuring quality consultations and services are provided.  Ensuring such quality measures and being accountable to communities continues to be an integral part of CWS-P/A's work as the organization responds to the large- scale disaster.