Disaster Risk Reduction: Being Better Prepared to Save Lives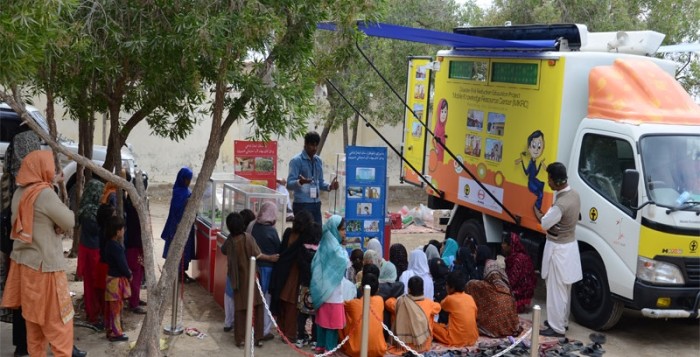 In December 2011, CWS-P/A in collaboration with SEEDS Asia launched a mobile knowledge resource center (MKRC). With the aim of helping communities become better prepared for disasters, the MKRC held a series of trainings during January in Thatta District. These trainings will continue for school children and community members until March 2012. Through innovative techniques communities are receiving knowledge on minimizing their vulnerabilities and increasing their capacities for future disasters.
Moreover, using visual materials with the aid of a truck that travels to disaster affected villages, community members are enhancing their knowledge to save themselves and the lives of others at risk. "The first- aid training session has increased my knowledge. I also learned how we can save ourselves from a fire, storm, and earthquake. In flood emergencies we moved to higher ground. Now, we also know how to make life-saving bottles and sandbags," said an eighth grade student, Abdul Aziz. "I plan to make six sandbags for my house," shared Areenj whose family moved to Karachi for two months when floodwaters made its way to her village. Areenj and Abdul Aziz along with fifty other students have directly benefited from this disaster risk reduction training.
The comprehensive knowledge was also taught through posters and the practical demonstration of disaster models relating to floods, earthquakes, cyclones, and safer housing construction in villages. Participants also received emergency bags containing radios, flashlights, document folders, and booklets. During the sessions, students took part in town-watching exercises noting places that were most prone to disasters and high at risks. Community members participated in a technique of making a boat using locally available styrofoam, bamboo sticks, and rope.
This first MKRC initiative in Pakistan is being well received by community members. Significant enthusiasm from the community was reported by trainers and project staff who traveled with the mobile truck. Moreover, as CWS-P/A continues with its strategic intervention, the integration of the MKRC with other current projects is underway. The MKRC will visit the same communities in Thatta District where CWS-P/A is implementing a housing project. The disaster risk reduction aspects of the housing designs will reinforce the capacity building by enabling community members to see firsthand what quality construction means. With enhanced knowledge and safer housing, the community will be empowered to take ownership of their safety and reduce their vulnerabilities to future disasters.