CWS-P/A Conducts its First Teacher-Student Camp in Bamyan, Afgahnistan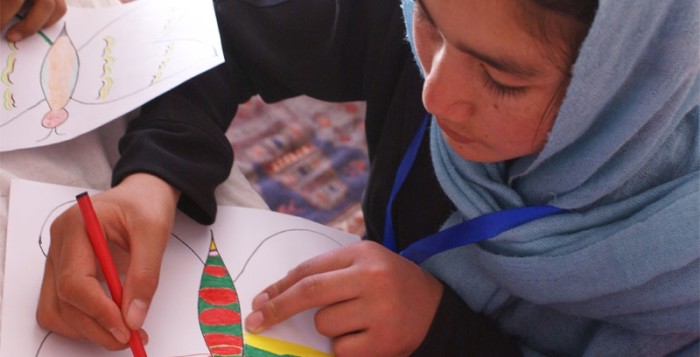 "I learned many things from the camp. I have never seen activities like these. The major points we learned were morning meeting, book making, math, science, and movies. I can make stories and apply learned mathematics methods," shared a sixth grade student.
Twenty-nine participants including four female teachers and twenty-five students, both boys and girls, attended a teacher-student camp organized by CWS-P/A for the first time in Bamyan, Afghanistan. The camp focused on how to accelerate child-centered methodologies and rights based education in the learning process by involving children in various curriculum based activities. "I am glad; we have never attended training like we had during this camp. I want to use the methods I learned in my life and for my students. Thank you very much for teaching us important methods," said Nahida, a teacher.
The five-day training camp emphasized how interaction between teachers and students can improve through student-centered activities. It not only builds their communication skills, which permits them to converse with their teachers without any hesitation, but also enhances the confidence toward classroom learning. Marzia, a sixth grade student, said, "We are feeling great after attending this camp. The training was very interesting for me, and I learned many methods. We learned syllabus contents too that we can use in our day to day life."
The aim is to further strengthen the capacities of teachers and students through interactive camps that address the diverse educational needs and improve access to quality education. "Despite a language barrier we had a very interactive teacher-student camp in Bamyan. I am impressed by the participants' enthusiasm and quest for learning; every day they came thirty minutes early to the camp and even wanted to stay after camp timings. I believe that children are the same throughout the world when it comes to their curiosity, creativity, enthusiasm, and imagination. Success was based on the approach of how to think and not what to think," said Nazakat Bibi, the camp facilitator.
Syed Zia Alawi-Bamyan, Director of Child Protection Action Network (CPAN), was invited to distribute the certificates among the participants. He thanked and appreciated CWS-P/A's efforts to organize this camp in Bamyan and highlighted the importance of different methods and techniques for development of quality education in Afghanistan. He said, "Students of today are the district governor, engineer, doctor, and president of tomorrow for our country; this camp gives an opportunity to learn from experiences of each other."