Creating Stars – Heena's new teaching methods bring awards to school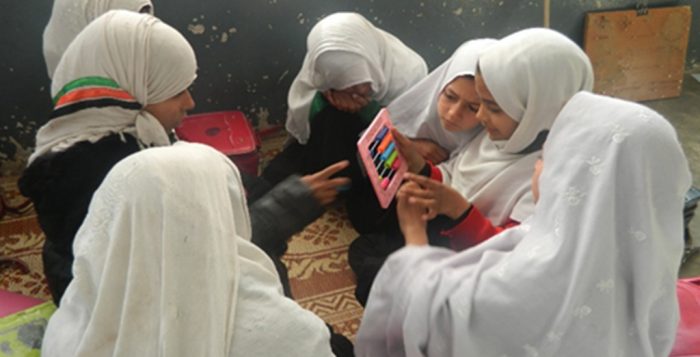 Heena, a Grade 3 teacher at the Abdurahman Pazhwak Girls High School, one of the participating schools under the Girls Education Project in Nangarhar, Afghanistan,  has been teaching using traditional methodologies such as lectures and rote learning.
"My students were scared of me; they were scared to ask me questions and I could sense that they felt my behaviour towards them was very strict. But I knew no other way of behaving around them to maintain discipline in class. This was the only technique I knew of to make them learn, and achieve good results. However, things did not remain the same for long,"
affirmed Heena.
"One day, I got the opportunity to attend a Teachers Training on developing our pedagogical skills organized by Community World Service Asia. The training was an eye opener for me. There were topics that I had never heard of before; such as Morning Meetings, Child-Centred Classrooms and Interactive methodologies of learning consisting of group works, role plays and developing low cost/no cost teaching aids."
The training completely changed Heena's teaching style and her attitude towards students.
"After attending the training, I entered the class with a new frame of mind. I began to apply my learnings; I greeted students with a smile, conducted morning meetings, shared interesting news and announcements with them, encouraged an exchange of personal stories and small gifts. I also organized role plays and delegated group assignments to them. I not only used no cost/low cost materials in class, but actually involved my students in making these materials with me."
An environment of healthy competition was introduced by Heena amongst her students, which was often followed by appreciation for students who made greater efforts in class. This change in behaviour helped with positive reinforcement in her class, and even the back benchers began to take greater interest in studying.
"My students were very happy and surprised with the new approaches and my changed behaviour. I had become much more humble, polite and friendly."
This not only improved the learning aptitude of students, but also helped them in increasing their confidence and knowledge. Students began to take more interest in attending classes regularly, and shared interesting learnings from school with their families and communities.
"It increased the enrolment and new admissions in our school as well,"
informed Heena.
An interschool competition was held at the Conference Hall of Education Directorate in Nangarhar Province. It was a skill-based competition where four schools competed on the knowledge test of four subjects, namely Mathematics, Islamic, Science and Languages. The Judges' committee included noted individuals such as Mohammad Usman Langarkhel and Lailuma Wali, who are members of the Parliament.
"The process of judgment was very transparent, and my students were declared winners of the competition. They were awarded gifts and cash prizes as well. The change in my style of teaching had truly shown positive results. My students were shining the brightest at the event. It was a day of celebration for all of us as our combined hard work and struggle had paid off!"