Creating Research Strategies for Advocacy Initiatives in Pakistan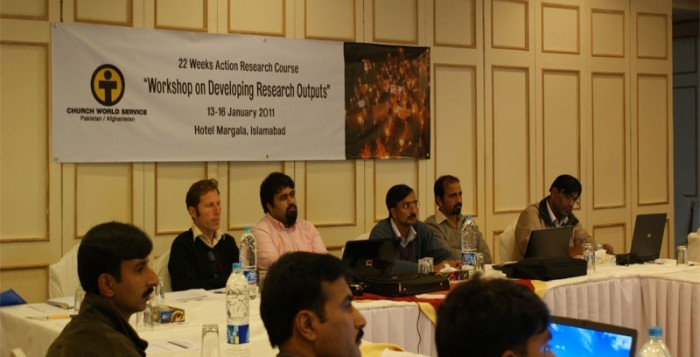 Fifty-two participants from various civil society organizations gathered together to continue and complete their learning of research work over the duration of twenty-two weeks. Action Research Course, designed to strengthen advocacy initiatives in Pakistan aimed to build the capacities of participants in developing independent research. Through assignments, participants applied their knowledge which also demonstrated their understanding of developing research on important social, economic, and political issues. Participants were also assisted through on-line support and three in-house training sessions from facilitators.
The recently held training focused on developing research outputs, and sessions were conducted on visual presentations and projecting research via print, web, and electronic media among others. Facilitator, Musadiq Sanwal shared, "The entire course was a great idea and one could tell that it was going somewhere. The participants asked informed questions and the course has been a solid way of imparting useful skills."
Azhar Ali Khan, a participant at the course said, "Coming from a non-research background, I have learned how to do research through the course components and the learning has been in a participant-friendly environment. While CWS-P/A's designed course has been comprehensively framed and well-scheduled and such courses should be continued."
A total of seventy research papers were submitted and Gulistan Ibadat, Project Coordinator for Promoting Good Governance, shares, "We have worked to ensure quality is delivered through these trainings and that the papers do not just go to libraries; instead there should be practical implementation of them." In further discussion, Gulistan shared, "As program staff we had concerns about the time duration for the course – twenty-two weeks. These were concerns like whether participants would continue the course especially due to the flood emergency in Pakistan as many participants were busy with their response initiatives." Despite early concerns and the flood emergency, the first workshop of its kind by CWS-P/A, Action Research Course was successful and appreciated for its value by both participants and facilitators.
The course successfully concluded with the notion of strengthening voices for advocating change on various issues in Pakistan at both national and local levels. Thus, indicating that good research and sound evidence helps achieve effective change within society.