Communicating Quality and Accountability with Partners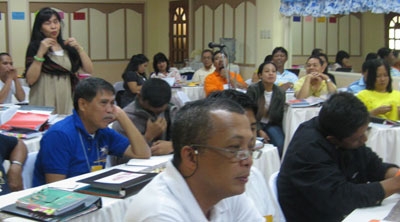 CWS-P/A continues its efforts to share information and encourage partners within Pakistan and Afghanistan as well as within other parts of Asia to pursue enhanced quality and accountability practices. From April 19-21, 2010, training, "HAP 2007 Standard on Humanitarian Accountability and Quality Management," was held with a partner in Nepal. Three of its implementing partners also attended the training.
The essence of the training was to explain the imbalance of power between aid agencies and the beneficiaries and how the HAP proposition helps decrease this imbalance of power through a management system which ensures accountability to the beneficiaries and other stakeholders and quality in service and practice.  Participants received copies of the HAP 2007 Standard, HAP poster, and other reference material in order to help them take initial steps toward implementing HAP 2007 Standard into their organizations.
Over the past several months, the HAP team also combined efforts with CWS-P/A's Sphere focal point to provide training with partners in the Philippines. Although Sphere standards are not new in the Philippines, this was the first time training on HAP was available. The workshops introduced HAP Standard, developed basic understanding of the relevant concepts, and shared tools to implement and self-assess an organization against the HAP 2007 Standard in Humanitarian Accountability and Quality Management. The workshops were designed to present a clear picture of the approach followed by HAP International toward the issue of quality and accountability such as self regulation and compliance verification. Participants expressed interest in how HAP 2007 Standard can contribute toward improving the efficiency and effectiveness of their humanitarian service provision. The groundwork was laid for the organizations to take future action in terms of quality and accountability.