Commemorating World AIDS Day – Raising Awareness and More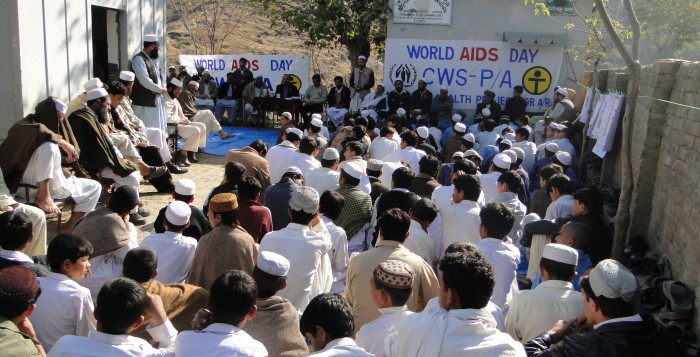 For more than two decades, World AIDS Day has been commemorated globally on December 1. Although discussions on sexual health and safe sex are still taboo in Pakistan and Afghanistan, it is essential to discuss prevention in order to reduce the spread of infections. Much credit in this regard goes to social workers and activists including CWS-P/A staff who work to address these issues in both countries. Approximately five hundred school children, health workers, and community members participated in a walk organized by CWS-P/A. The purpose of the walk was to raise awareness among Afghan refugees in three camps in Mansehra District, Khyber Pakhtunkhwa.
Awareness sessions and seminars were also held in each camp which addressed basic aspects of HIV & AIDS. Topics on the spread of HIV & AIDS were also discussed keeping in view the need for proper sterilization of instruments used by barbers, dental surgeons, and in piercing. Hygiene kits were distributed among school children who participated in drawing posters to demonstrate their understanding of HIV & AIDS.
CWS-P/A believes that through education myths about people living with HIV & AIDS can be curbed and prevention messages can help lower the rate of infections. Over the year, four awareness sessions took place at educational institutions in Punjab and six community workshops were held in both Sindh and Punjab. A five day training of trainers took place in June with members of twelve organizations from all provinces across the country. Through these workshops and awareness sessions, challenges of discussing HIV & AIDS are addressed and trainers become equipped with knowledge so they can conduct training with communities.