Celebrating Partnership, Promoting Environmental Conservation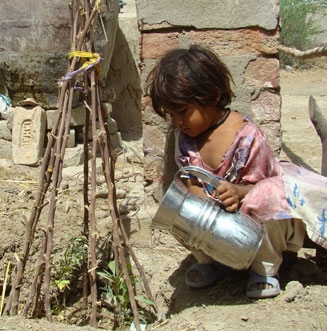 For close to thirty years, CWS-P/A has implemented projects with Society for Safe Environment and Welfare of Agrarians.  This year, SSEWA-Pak reached a commendable milestone, thirty-five years of service, and CWS-P/A helped mark this achievement. On April 23, 2010, CWS-P/A supported the organization in its endeavor to plant 35,000 trees in one day.
"Today as we stand here to celebrate the 35th anniversary of SSEWA-Pak, we do so not only in cherishing the good work that has already been done but at this important milestone we commit to further giving more to both the environment and people. Today, SSEWA-Pak and CWS-P/A commemorate thirty-five years of work and service by SSEWA- Pak by planting thirty-five thousand indigenous trees in Mirpurkhas and Umerkot Districts. The planting of these trees will set a new record on planting so many tress in Sindh in one day," Marvin Parvez, CWS-P/A Regional Representative, said in a speech at the event. He also discussed the importance of tree coverage and that despite being part of international agreements on environment, Pakistan experiences widespread cutting of trees without sufficient replanting practices.
Pakistan is a signatory to fourteen multilateral environmental agreements including the Convention on Biological Diversity, the United Nations Framework Convention on Climate Change, the United Nations Convention to Combat Desertification, and the Kyoto Protocol to UNFCCC; the country also has its own national policies including one specific to forests. However, the realities of environmental issues in the country indicate that more is needed to comply with the agreements. Deforestation and forest degradation occur throughout the country for a variety of reasons. Between 1990 and 2005, Pakistan lost 24.7% of its forest cover. Accounting for plantation, the net loss of forest and woodland habitat was 14.7%. Cut trees are often used for wood fuel as well as for industrial purposes; the 2005 estimated value of wood and non-wood forest product removal was more than 1.5 billion U.S. dollars.[1]
The high depletion rate significantly impacts environmental conservation efforts. According to the International Union for Conservation of Nature, deforestation and forest degradation account for 17% of man-made global greenhouse gas emissions. Widespread deforestation over an extended period of time also affects the habitat of thousands of plants and animals. The negative effects of deforestation extend to the people. Deforestation causes massive landslides and disrupts underground water sources. Tree cutting for fuel purposes is common in the aftermath of natural disasters, particularly during the winter months. In 2008, the famous thousands of years old Juniper trees, which are essential for the ecosystem since they help maintain the underground water sources and prevent landslides, were more rapidly cut for firewood and rebuilding after an earthquake devastated parts of Balochistan Province. Despite earlier efforts to promote the protection of the Juniper trees, the earthquake affected individuals felt they had no other option to survive the below freezing temperatures. Throughout Pakistan, lack of environmental awareness, poverty, and natural disasters continue to threaten its forests. Until deforestation and replanting practices find equilibrium, Pakistan will continue to lose its valuable forests.
For this reason, the decision to celebrate thirty-five years of service by planting a recording breaking number of trees in Sindh shows the commitment SSEWA-Pak and CWS-P/A have toward environmental conservation. In this regard, Parvez said, "There is both the time and need to increase the tree coverage in Pakistan which is what we are committed to, and SSEWA-Pak and CWS-P/A have been committed to this and many other environment friendly issues, promoting environment friendly projects and products such as the neem products in the past years." In order to further support and commend these efforts, the District Coordinating Officer Mirpurkhas, Ghulam Memon, announced that the government of Sindh's forest department would donate 50,000 tree saplings to SSEWA-Pak. After the event's inauguration, thirty trees were planted on the premises, SSEWA-Pak's Rattanabad office, to start the tree planting campaign.
Divided into teams, staff, government line department guests, school children, and community members spread out and planted trees across Mirpurkhas and Umerkot. Twelve varieties of tree saplings were planted all of which are indigenous to the area. Neem accounted for nearly half of the planted trees. This indigenous tree, in addition to its environmental value, contains unique, medicinal properties. The event marked more than an occasion for SSEWA-Pak. The planting of thirty-five thousand trees in one day is an example of how much difference conscious efforts to conserve the environment can make; committed individuals and minimal inputs are the only requirements to start making a difference. CWS-P/A and SSEWA-Pak continue their endeavor to assist these communities with food security initiatives that are based on the natural resources of the area and are attentive to environmental issues and conservation.
[1] International Union for Conservation of Nature, World Conservation Monitoring Center, mongabay.com, and Pakistan's Ministry of Environment (www.pakistan.gov.pk)