Catering to Individual Needs in the Field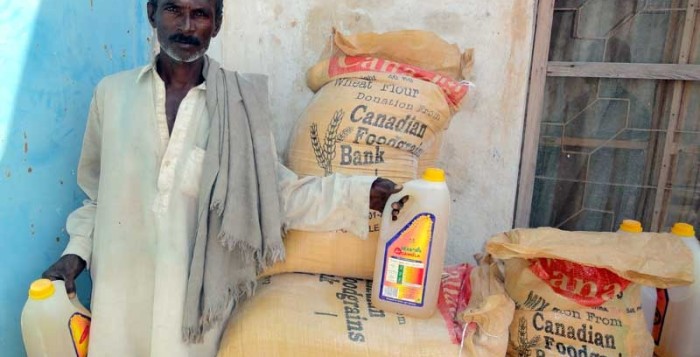 Sixty-three year old Rowato Kolhi received more than a food package at CWS-P/A's distribution point in Umerkot District, Sindh. He found caring people and a chance to tell his story. Rowato who was very sick with a fever was sighted sitting in a corner of the distribution center holding his token. One of the partner's staff members noticed him and informed the CWS-P/A team. Rowato was immediately called in, provided a space, and advised to rest. It was when he felt a little better that he collected his food package.
In discussion with a CWS-P/A team member, Rowato described his family's experience and post-flood situation. "The flood destroyed my village, my two rooms (non-cement), and all our household materials. On two acres of land I cultivated sugarcane and cotton, but they are fully destroyed.
"Three feet of floodwater was in my house, and when the water level was rising, we left our village at night with some other neighbors. The speed of water entering into our village was so speedy that we did not wait. In the dark night we could not take many things with us. We left our homes. We took shelter on the roadside, where we had one or two meals a day, provided by the welfare-minded people. We faced great problems while staying on the road.
"After twenty-seven days, we returned to our village and found everything a mess. Our two rooms had already fallen down, and our beds, clothes, and utensils were all damaged and broken and some had washed away."
With sadness in his voice, he continued, "We had three goats and a buffalo, but all died due to floodwater. Hearing the news of the death of our buffalo and goats, my wife became disturbed and now she frequently gets sick. She cannot accept the loss of our animals."
Rowato has lived in the same village for the past thirty-three years. He has two sons, one of which lives with him and his wife. Many years ago he rented two acres of land from the local landlord off of which he earns about 4,000 rupees (USD 46) per month. With everything destroyed during the floods, he faces a great challenge of restoring his livelihood so that he can continue to earn an income and support his family.
CWS-P/A has been working with communities in Mirpurkhas and Umerkot to improve food security. This particular part of Sindh already faced extreme challenges and food insecurity before this year's flood. Frequent droughts, the lack of sufficient irrigation water, and cycles of indebtedness are a couple of leading challenges these communities faced. With support from Canadian Foodgrains Bank and Presbyterian World Service and Development, CWS-P/A has assisted these communities improve agricultural output, build community capacity, and empowered women through self-help savings groups. In their time of need, once again CFGB through PWS&D provided support in terms of emergency food assistance. This assistance was direly needed as floods devastated the agriculturally dependent districts resulting in the widespread loss of agricultural crops, livestock, and housing.
When asked how his name was selected to receive relief packages, he said, "SSEWA-Pak [CWS-P/A's implementing partner for the existing food security project in the area] staff came to our village and made assessment. Seeing the conditions of our family, they listed my name and issued me a token and said I would get some food and other nonfood items from CWS-P/A. So this is how I came here with my token, but since yesterday, I am sick. I did not want to miss my food package because there is no food at my home so even not in good health, I reached here with others."
Rowato took a moment out to express his gratitude to the people who made the food package available to him. "I can easily survive now for a month with this ration. I have no shelter, and we are living in open space".
Like many other flood affected farmers, Rowato shared that his most immediate needs are for shelter and seeds for cultivation. CWS-P/A remains committed to the rural communities it assists and with support from the international community believes that affected families can regain their livelihoods, hopefully improving upon them and finding sustainable solutions to challenges affecting food security.