Bringing Health Services to the People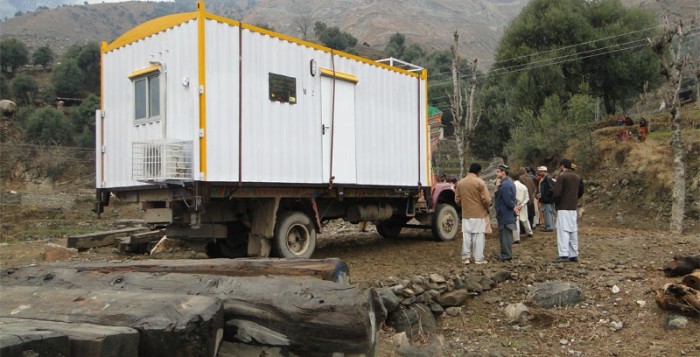 When a child is sick, her mother takes her to a doctor, but what happens when there are no hospitals, no doctors, and no medicines? What about millions of people affected by disaster, troubled by waterborne disease and other illness at the onset of winter? Access to proper healthcare is essential for survival, and unfortunately, where and when it is needed most, it is often not present.
For more than thirty years, CWS-P/A has been working for providing health services in Pakistan. A health program started for Afghan refugees has now served generations of residents in Mansehra, Khyber Pakhtunkhwa. Experienced doctors, dedicated female health workers, and community volunteers provide quality health services, free medicines, and health education to thousands of individuals every year. Developed expertise in health enables CWS-P/A to immediately initiate emergency health services following disasters. Most recently, CWS-P/A operated various health initiatives in flood-affected areas including Dera Ismail Khan, Swat, Kohistan, and Mansehra in Khyber Pakhtunkwa and Sukkur and Khairpur in Sindh.
Following the floods, affected communities required health services to treat waterborne diseases, diagnose other illnesses, provide medicines, pre and postnatal care for pregnant women, vaccinate children, and make referrals to other permanent health facilities when necessary for effective treatment. CWS-P/A brought these health services to people through mobile health units and existing basic health units. For many individuals who received treatment from CWS-P/A's mobile health units, it was their only option for treatment. Without money or resources to travel long distances to hospitals, these people would have suffered or possibly died due to lack of treatment. Over six months, CWS-P/A provided more than 125,000 consultations.
Although most people's lives were spared by the floods, buildings including hospitals and other health facilities were not. The widespread destruction created a huge loss to health infrastructure and services.  The threat of epidemics and waterborne diseases caused great concern especially with families living on the roadside without shelter, food, and safe drinking water. In Pakistan, women often suffer the most during disasters due to a lack of female doctors; the floods were no different, and concern was high with an estimated half a million women expected to give birth in the six months following the floods.
CWS-P/A's health initiative addresses more than consultations and provision of medicines. The comprehensive approach includes awareness and health education. Aside from providing treatment during the emergency, the health team conducted hundreds of sessions on waterborne diseases, STIs and HIV & AIDS, endemic diseases, and good hygiene. Through awareness, CWS-P/A helped thousands of people to prevent future health risks. This education, if put into practice by families, will benefit them for the rest of their lives, long after they reside on roadsides or feel the effects of the 2010 floods.
Recognizing the importance of rehabilitating health facilities and services, CWS-P/A coordinates closely with the government health departments, World Health Organization, and other agencies working in the health sector. Through coordination, CWS-P/A identifies needs and gaps in health services and plans for recovery initiatives. CWS-P/A's emergency health services have ended in most areas while recovery initiatives are underway. In the northern areas of Kohistan and Shangla, CWS-P/A will operate health services through three static health units for approximately eight months before turning management over to the government. The infrastructure of the health units is intact to some extent, but services have not been available to local residents due to a lack of doctors and medicines. A unique aspect of this initiative is the use of hydraulic mobile health units. For the first time, CWS-P/A acquired these transportable health units that consist of three fully equipped health rooms with medicines, medical supplies, and equipment with the facility of attached washrooms. Transported by carrier trucks, they are placed at strategic locations to meet the out-patient needs of local residents. When health services start on March 1 from the existing static health units, the two HMHUs will be transported to new locations in Kohistan to reduce the travel time in order to reach an increased number of beneficiaries. In Sindh, CWS-P/A's existing health initiative in Badin District which includes the provision of health services through a community basic health center is also serving flood survivors. During the floods, affected families relocated to this area from Thatta District. Some of these people remain in the area trying to find livelihoods and the health services are available to them.
The value of health services during emergencies is undeniable; lives are saved and suffering ends. However, in Pakistan, especially in remote areas, the provision of emergency health services can mean so much more. Prior to the floods, many communities did not have nearby or quality healthcare, but because of humanitarian organizations, these services are now available and hopefully for the long-term. Overall community health improves when quality health services reach the people. Awareness and expectations of available health services empowers communities to demand their right to have easy access to quality health services.