Bridging health gaps in rural Afghanistan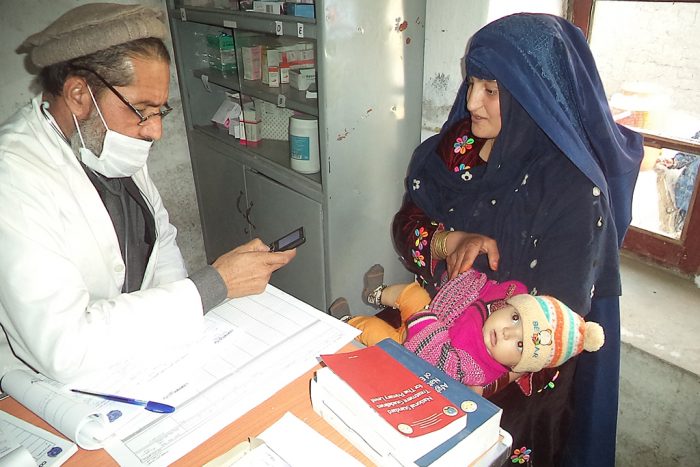 My husband works as a laborer in a construction company in Iran. He earns a daily wage of AFN 500 (Approx. 7 USD). I live alone with my two sons and one daughter in Afghanistan,
shared Asma sadly. The mother of two sons and a daughter, Asma lives with her children in Mashinna village, located in Qurghaie district of the Laghman province in Afghanistan. Her husband sends her money on a monthly basis but his low income is insufficient to bear all the household expenses. Asma has hardly been able to save money for health care emergencies of her own or her children and with no health facility nearby, travelling to distant hospitals has been out of the question.
When Asma was pregnant with her third child, her husband could not stay till her delivery and had to fly back to Iran for work. Being alone and economically bound, Asma would have had no one to assist her during the delivery of her third baby. Fortunately, a lady Community Health Worker (CHW) came to her when she was in her third trimester and informed her about the maternal and neonatal health assistance provided in the Nowdamorra Sub-Health Center (SHC) which is located near to their village.  The health worker thoroughly examined her and prescribed her multivitamins and micronutrient pills. Asma was told about the safe delivery services and antenatal and postnatal care provided at the health facility and was then registered as a patient in the sub-health centre. She was advised to visit the health center regularly for antenatal care.
As a patient registered with the SHC, Asma received regular and quality antenatal Care throughout her last trimester. She came to the SHC for regular checkups and was prescribed micronutrient medication. A midwife at the SHC conducted health and hygienic sessions for Asma and other expecting mothers from the village and shared a suggested diet chart with them, advising them to eat food that was healthy and nutritious for them and their babies. Thus, Asma was well-informed on the prevention of risk factors during pregnancy and delivery.
In July 2017, Asma delivered a healthy baby girl with the assistance of a skilled midwife and nurse at the Nowdamorra health centre. Asma regularly visits the SHC for postnatal care where she receives family planning and breastfeeding sessions. In addition, she was also given a diet chart to follow for a period of six months postpartum.
The staff at the health facility is very cooperative and facilitated me timely resulting in the safe delivery of my beautiful daughter.
*The Nowdamorra Sub-health centre is among six sub health centres established in four districts of Laghman province in Afghanistan by Community World Service Asia and financially supported by PWS & D.