An Uncertain Future for Children in Pakistan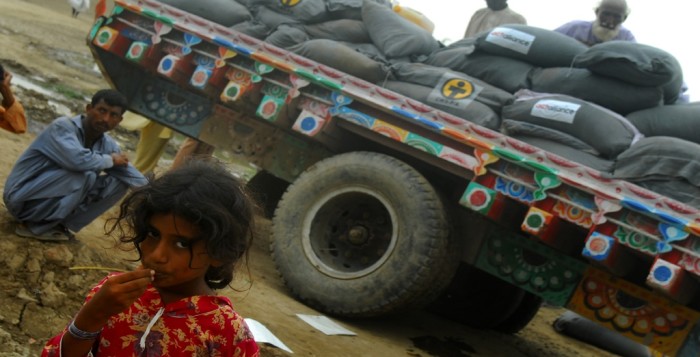 "Children and women are suffering from paranoia. They are thinking about getting shelter, not about education," said Shahbaz Khan Barozai, Risaldaar Levies (Federal) Sibi District, Balochistan.
Children are said to be the future of a nation, the agents of change. Nations invest all possible resources in the upbringing of children so that they can further build and carry forward the hope and growth of the country. However, the current floods in Pakistan have changed the future course of millions of Pakistani children. Their future, perhaps, is at its darkest ever.
Pakistan never exhibits good indicators in terms of child health and education. The under five mortality rate is 89 per 1,000 live births, infant mortality rate 72 per 1000 live births, and total under five death 465,000. The overall literacy rate is 46 percent while only 26 percent of girls are literate. Independent sources and educational experts, however, are skeptical. They place the overall literacy rate at 26 percent and the rate for girls and women at 12 percent, contending that the higher figures include people who can handle little more than a signature.
Now, with the floods having destroyed nearly one fifth of Pakistan and damaging infrastructure and communication, these and other development indicators are only going to worsen. The scale of the emergency is massive and the damages unimaginable. It is perhaps going to be remembered as the worst disaster in Asia which has affected nearly 20 million people. Sadly, the number of affected people keeps rising with each passing day as the floods continue to wreck havoc across the country for more than a month now.
Stories keep pouring in of how people have had flood water gushing into their homes while asleep and have had to run for their lives in the middle of the night. Or how families have had to live on tree tops and feed themselves on leaves to survive. Pregnant women walk miles to seek medical care for their delivery; even sadder stories of young pregnant women dying when they have not been able to reach medical services in time. Many families have also been separated amid all the chaos.
In all this chaos, it is the children who are the most vulnerable and such displacements and disruption in their daily routines leave them highly traumatized. Children have very fragile state of minds and seeing their elders in such despairing circumstances greatly affects their mental well-being. Children are forced to sleep in unthinkable camp conditions where clean water and sanitation facilities are only a dream. Recently, a national newspaper article reported that most of the philanthropic (individuals and organizations) who are donating food in the camps are providing "heavy and spicy" foods which the children cannot eat. Children have special dietary needs which are being grossly overlooked.
UNICEF has estimated that 3.5 million children are at high risk of waterborne diseases. With flood water still not receding in many areas, this risk increases. Combined with malnutrition, children are easily susceptible to life-threatening diseases and illnesses. A second wave of death is likely if the special needs of children are left unfulfilled.
As human misery continues to mount, experts are now concerned that a cholera epidemic could break out in flood-affected areas. The World Health Organization (WHO) has asked Pakistan's Government to investigate a reported case of cholera in the northwest Swat Valley. WHO projects that up to 1.5 million cases of diarrheal diseases – including up to 140,000 cases of cholera, 150,000 cases of measles, 350,000 cases of acute respiratory infections, and up to 100,000 cases of malaria – could occur over the next three months. Acute respiratory infections, skin diseases, and malnutrition rates are already dangerously high in many flood-affected regions of Pakistan.
An estimated 2,863 schools have been damaged in the flood hit districts in Punjab alone. The total number of damaged schools will be catastrophic once assessment of schools is complete in all provinces. The new academic term normally starts in August; however, schools in many flood hit areas have not been able to resume their term. Areas where educational institutes are not damaged, school grounds serve as makeshift camps for affected people. The education of the children is suffering. The education department has also feared that poverty in the flood hit areas will definitely increase. Hence, many families will be under greater financial pressure and may be forced to stop sending their children to school. This regression of education will not only negatively affect the immediate education of thousands of children but also the progress of the country for years to come.
International aid is slowly tricking into Pakistan, as perhaps the international community fails to grasp the actual massive catastrophe of the floods, but for the time being, the fate of millions of Pakistani children hangs in the air as they eagerly await the support of fellow countrymen and the international community. For how long will the children of Pakistan lose their education?
Footnotes:
http://www.countdown2015mnch.org/documents/2010report/Profile-Pakistan.pdf
http://www.unesco.org/education/efa/know_sharing/grassroots_stories/pakistan_2.shtml
http://www.unicef.org/infobycountry/pakistan_55580.html
http://www.unicef.org/infobycountry/pakistan_55580.html
Dawn Newspaper, August 27, 2010, page 3