An Appreciation for Better Education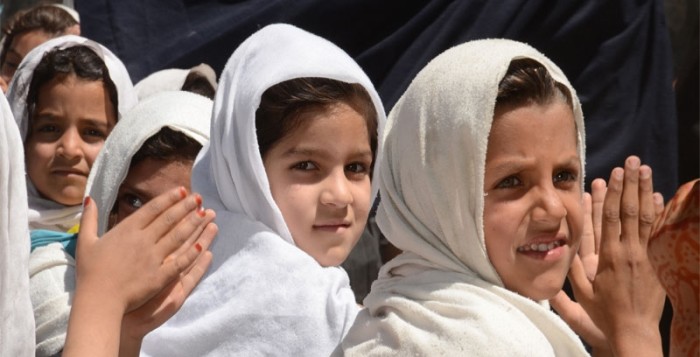 "Since we started using these methods and activities within our classes, it seems that the students are really motivated and are coming to school with lots of passion. We realized that they are now learning their lessons very easily and fast. Use of these methods and activities has resulted in decreasing the number of absentees," said Nasreen, a teacher at Bibi Maryam Girls High School.
"I believe that the training session was conducted in a way that our teachers gained the knowledge in the best manner that resulted in implementation of those learned methods and activities within their classes successfully," said Engineer Shamshad Safi, the principal of Bibi Maryam Girls High School.
"I really support effective and fruitful activities of CWS-P/A on supporting children's education, especially girls' education. Since the awareness session of this project is on the importance of children's education and it started with community people, it had its positive impacts. As soon as the community people were trained and understood the importance of education, they started enrolling their children in the local formal schools. The increased enrollments have resulted in overloading the capacity of the local schools and we have stopped enrollment since few months, though there are a large number of families who want to enroll their children," said Sayed Aslam Aghan, Deputy of Charbagh-e-Safa Girls High School.
"I would really like to thank CWS-P/A for conducting teacher training sessions for the teachers of different schools in Surkhrood District, Nangahar Province. These training sessions have really been very effective and fruitful for the teachers, and they have learned much to manage their classes and teach their students effectively. I can even clearly realize their improvement through their communication with me via mobile phone. I can see a very huge difference in their speaking manner, after being trained by your trainers," said Sayed Abdullah Saeedi, Surkhrood District's Education Director.
The above statements were recently shared with CWS-P/A's staff member during a field visit to schools where the organization works to enhance enrollment rates and provide quality education. While these quotes reflect positive impacts that the project has created, it also marks the growing acceptability by the communities in Afghanistan to provide quality education to their children despite the many other challenges they face. With increasing enrollment, the need to address other factors that impact the quality of education also increases. Some of these include the need for more female teachers and repairs and refurbishment of school buildings including boundary walls, electricity, sanitation facilities, and greater capacity to accommodate students.
Additionally, the project is working to bring children back to school that had previously dropped out owing to various reasons. This is done through increasing awareness among religious leaders, parents and teachers, and community members. In 2012, 98 girls were back in schools due to efforts made by religious leaders and parent and teacher committees. A total of 1,422 girls were newly enrolled in 2012 and trainings for teachers during the year helped to promote quality education. The trainings continue to help teachers change the classroom environment into one that is welcoming for students and where learning is interactive and participatory. CWS-P/A has also built the capacities of staff members of its local implementing partner to carry out similar trainings.
In 2012, CWS-P/A through financial assistance from Presbyterian World Service & Development and Act for Peace has been able to reach more schools and communities with expansion of the project to Nangarhar Province, Afghanistan. CWS-P/A also appreciates the dedication of all those involved in the continual efforts to improve education in Afghanistan.