Aid Groups Shouldn't Compete Against Each Other, Says CWS-P/A Health Worker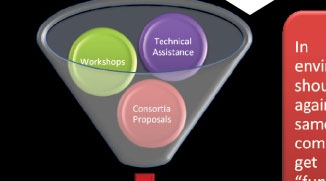 Beenish Hashwani, a health worker with CWS-P/A, has some unique opinions about funding for health efforts in developing countries. Basically: aid groups shouldn't be competing against each other.
"In today's complex aid environment the emphasis should not be on competing against one another for the same pool of funds, but competing together to each get a share of the limited funding pie," she says.
She adds that the dangerously high rates of infant and child mortality in Pakistan further underscore the need for collective not competitive approaches by civil society working in reproductive health, particularly when Pakistan's public expenditure on health stood at just 0.57% of GDP in 2007. This is the second lowest rate of 29 countries in Asia and the Pacific.
"It is vulnerable communities that are most affected by the lack of funding," says Hashwani. She adds it is becoming increasingly important for civil society to advocate for more reproductive health funding in Pakistan in order to fill in the void for much-needed services that save lives of women and children.
"It is important that competing aid groups to recognize and understand that it is more appropriate for them to work in collaboration with one another and to take advantage of each other's collective skills," Hashwani stresses.
The global financial crunch has not spared donors either, and the donor community is also striving hard to keep pace with the growing demands for increased funding on various development issues. Hashwani notes, "Often it is reproductive health that is given the back seat. Hence, it is vital for aid groups to work collectively to advocate on the issue and effectively use the limited funding available."
Hashwani has continued to raise her voice on these issues of competition within the aid sector. And at a recent national community development conference, she won the third prize for her poster, which proposed a new model for civil society engagement with donors and project implementation. Her work entitled "Sustainable Capacity Building of CSOs in Accessing Reproductive Health Funding" was an example of a best practices project titled 'Euroleverage'.
The Euroleverage project is supported by the German Foundation for World Population (DSW) and is implemented in several countries. The main goal of the project is to 'leverage increased funds for Reproductive Health and Family Planning from European Community ODA' in the project countries. In Pakistan the project is implemented by CWS-P/A.
During the conference, Hashwani presented her poster to a panel of judges who selected from over 35 national poster entries. In acknowledging the irony of winning a competition with a message of non-competition, she said, "Whatever it takes to get the message out."