Afghanistan: Keeping Children Warm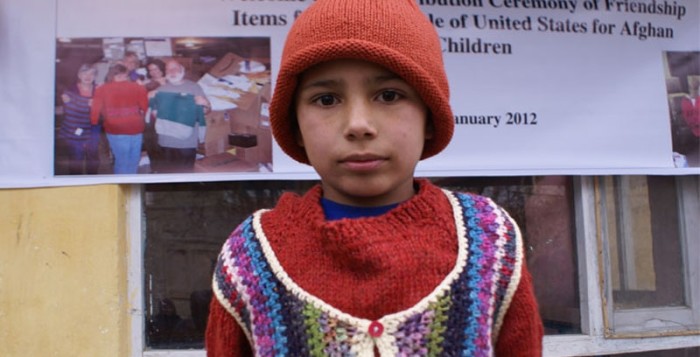 This year the Afghan capital has been experiencing its worst cold weather temperatures and heavy snow in at least fifteen years, shares media reports. While coping with harsh weather challenges, poor families continue to make the most pressing choices between food, fuel, and wood. For more than a decade, CWS-P/A's partner, Afghans for Afghans, has made it possible for children to receive knitted items including sweaters, socks, mittens, and hats. This year, due to the extreme weather, the provision of these items meant a lot to children who had no other protection from the cold. The items were distributed in early January when children needed them the most.
CWS-P/A distributed the knitted items through organizations in Kabul that work with vulnerable children in order to have positive change on their lives and reduce their risks from poverty, and child labor. The organizations help children, often street children, orphans, and those from extremely poor families, to regain some of what childhood is meant to entail—education, food, and a healthy environment. Thanks to the generosity of Afghans for Afghans, 474 warm clothes packages reached children this year. For the children who are finding positive ways to improve their lives, this kind gesture offers more than protection from the cold. It offers children hope that they are cared for, and it encourages them to strive to overcome the many challenges they and their families face.
Hijrat, at the age of ten, is among those children who received warm clothes. Having lost his father at the age of 3, the boy walked the streets polishing shoes. "I doubted whether I could ever carry on in school again," shared Hijrat along with appreciation for the clothes. However, an opportunity offered almost a year ago through a local Afghan based organization includes the provision of education and new skills and is having a positive impact on Hijrat's life.