Advanced Social Media Training for Effective Outreach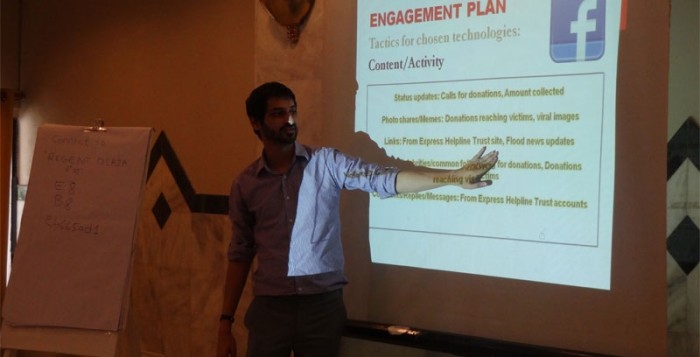 A one-day thematic session, 'The Role of Media in Creating Perceptions about NGOs,' was recently held in Karachi, Pakistan. Twenty-five participants including civil-society activists and a few students also attended the session which enhanced knowledge on the role of the media and its relationship with NGOs in the local context. Discussions and open dialogue along with information sharing were led by the facilitator, Tahir Malik. His journalism and media based background helped participants improve their knowledge on the functions of the media in Pakistan. Participants were also able to present their concerns regarding the media and critically think about their interaction and workings with all types of media.
A two-day of training, 'Advanced Social Media for Communications,' followed the one-day thematic session and included nineteen participants from national and international NGOs. During the training, participants benefited from theory, practical learning, and activities on a range of social media tools. Facebook, Twitter, Klout, Hootsuite, Topsy, and Wildfire were among the social media tools used to engage the participants. The participants also demonstrated an interest to evaluate their current social media forums with the use of social media monitoring tools. At the end of the training, they shared their eagerness to apply the learning toward improving their social media outreach within their organizations.
"The course was an eye-opener for me. The hands-on experience helped me in understanding different social media tools and how to effectively use them in building an effective social media campaign for my organization," said Aly Zuberi, a participant at the training.
To learn about upcoming training opportunities, visit: http://www.cwspa.org/resources/training-calendar