Addressing Health Needs Across the Provinces: More is Required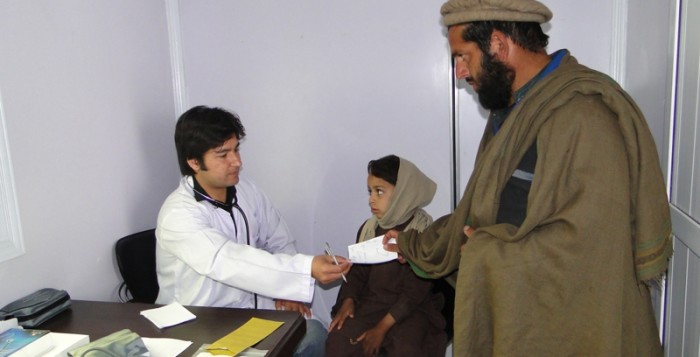 When Pakistan's worst flooding began, CWS-P/A's initial response included the provision of preventive and curative health services through mobile and static health units in the province of Khyber Pakhtunkhwa. Soon after health activities were expanded in Sindh Province as flood waters flowed from the north to the south. The organization helped bring essential health services to affected communities and provided over 100,000 consultations during the first few months following the disaster. A year later, CWS-P/A continues to assist survivors in meeting their basic healthcare needs.
From CWS-P/A's health facility in Swat District, Dr. Qaiser Jan shares, "As organizations continue to work to help flood survivors recover, their conditions are slowly improving. Undoubtedly health sector gaps still persist. This is due to lack of government provided health resources, expensive medicines, and the cost of hiring health personnel. Access to healthcare remains denied to people and the rising cost of living makes it even harder, especially among those who need it the most."
Even a year after the floods, the doctor shares that diarrhea and skin diseases are major health concerns among affected communities.  He believes that these are partially caused by seasonal changes but primarily brought on by the intake of contaminated water and unhygienic living conditions. The doctor further relates nutritional deficiencies as a major concern among women and children.
CWS-P/A's health initiatives are helping to provide essential supplements to 20,000 women and adolescent girls and 15,000 children. The comprehensive approach also includes awareness sessions on proper nutritional intake among at least seventeen other topics conducted by the organization's trained health mobilizers. Over 1,536 health sessions had been conducted by the end of May, thereby, creating awareness among as many as 33,213 community members in the district. In addition, the distribution of 150,000 water purification tablets helps to address the fundamental cause of diarrhea and skin diseases which benefits a catchment population of 110,000 community members.
Farkhanda Jabeen, working as community health mobilizer for CWS-P/A, shares, "The coming summer months bring a rise in cases of malaria, eye infections and sunstrokes.  This is because many people work extensively in the fields during these months." Farkhanda acknowledges that the awareness sessions are helping to bring improvements in communities as they become more receptive through time.  "Adopting good practices takes time, and we have been making it happen with much effort."
At the organization's health facility in Gulibagh, Dr. Rohmana Ayub explained that she treats a hundred females per day. Many continue to be treated for diarrhea, skin diseases, and depression.  In a discussion about depression, she added, "Women have concerns about their families, especially when their husbands have no jobs. These worries add up because they also have large families." The doctor admitted that without essential nutrition and resistance for the use of male contraception, a further strain is placed on women's health.
To address the health needs of communities in Swabi District, CWS-P/A operated a diarrhea treatment center meeting the needs of 140,000 community members for a period of two months. The round-the-clock, twenty-bedded facility helped avoid an outbreak of cholera while reducing mortality in the aftermath of the disaster.
In Kohistan, CWS-P/A for the first time acquired two hydraulic mobile health units which provided as many as 16,443 community members with access to healthcare. CWS-P/A's health specialist, Dr. Qamar Zaman, shares, "Hydraulic mobile health units helped provide preventive and curative healthcare services and during the emergency phase proved extremely useful due to eighty percent of the infrastructure damage in Kohistan."
The organization also worked to repair and restore health services to nine static health units providing assistance to approximately 11,000 community members.  More than 700 antenatal and postnatal consultations were provided. The assistance continues in Kohistan until October 2011 despite persisting security and safety concerns among health staff and particularly among female staff.
Muhammad Khan residing in Pattan Muslim Bagh, a village in Kohistan, shared that he was treated for his lower back and joint pains in both his ankle and knee. He shared that he had traveled to Karachi to seek medical assistance. The high cost of travel and treatment made life difficult for sixty-five year old Muhammad Khan. For over two months he received assistance through CWS-P/A's health facility with free medicines and consultations for which he shares, "I keep the health staff in my prayers."
To bring health services to the most vulnerable community members, CWS-P/A's mobile health units in both provinces provided approximately 43,022 consultations and thousands of health education sessions. These included 1,362 antenatal and postnatal consultations. While in the province of Punjab, CWS-P/A's static health unit in Muzaffargarh provided 9,214 consultations.
In Sindh, CWS-P/A's basic health unit in Tehsil Golarchi, Badin District, continues to provide health services to communities. With an average of twenty-five patients per day the health facility in April and May provided over 1,495 consultations. Flood survivors displaced from neighboring Thatta District gained medical services in this district but continue with their everyday struggles especially in accessing food and health. As public health services remain denied particularly on discriminatory grounds to a large number of Hindu community members. The remoteness of the location further causes much hindrance in accessing healthcare.
Overall, CWS-P/A's health services continue to help communities affected by the disaster especially where such services remain persistently denied. CWS-P/A's strategy has been to work with the most vulnerable communities residing in far-flung disaster affected areas. In this regard, many hardships are encountered by health staff members; however, they do not forget that much more is needed and much more needs to be done to reach communities residing in areas without quality healthcare.
Hydraulic mobile health units (HMHUs) are health rooms with medicines, medical supplies, equipment and with the facility of attached washrooms. Transportable by carrier trucks, the HMHUs were placed at different locations to meet the needs of the local community.