CWS-P/A Honors Nduna's 25 Years of Service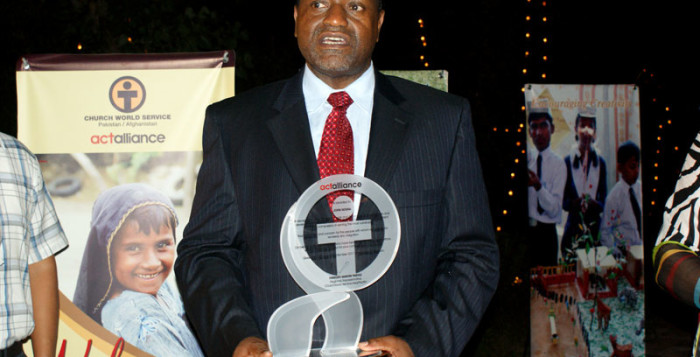 CWS-P/A was delighted to host a reception in honor of ACT Alliance General Secretary John Nduna's first visit to Pakistan and Afghanistan along with partners and friends from the humanitarian and diplomatic community. Mr. Nduna received recognition for his 25 years of service and the efforts he has contributed to humanity around the globe.
With 111 churches and church-related organizations working together in 140 countries around the world, ACT Alliance demonstrates the potential of unity and cooperation to affect real change in communities recovering from disasters. CWS-P/A has been a member of the Alliance since the beginning and shares its commitment to sustainable, meaningful change in the lives of marginalized and disaster affected communities.
The evening was well attended with guests from the Pakistan Prime Minister's Secretariat, embassies, UN agencies, ACT Pakistan Forum members, and other I/NGOs. Mr. Nduna warmly welcomed and thanked everyone present for their work and contribution toward achieving effective humanitarian assistance, long-term development, and high-level advocacy. He also highlighted the important role of ACT Alliance on a global level and the way in which it presents a platform for its members to make their voices heard on the international stage.
Photos from John Nduna's visit to Pakistan