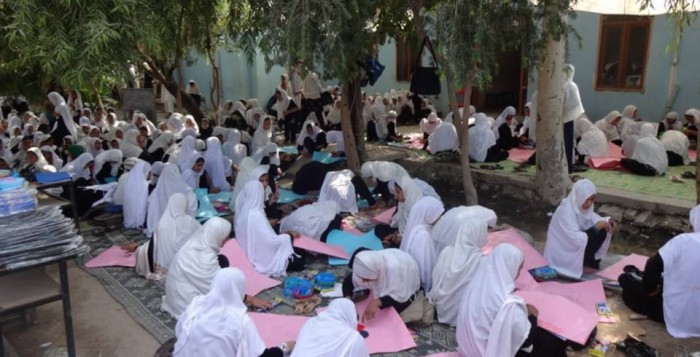 Many villages in Nangarhar are host to communities that cannot financially support their children's education. Higher education is even more inaccessible due to distance, financial constraints, security concerns, and prevalent cultural restrictions.
Our girls' education project is designed to provide the girls of these communities with a sustainable source of income, learning, and empowerment. Skills based classes on handicrafts such as hand embroidery, bead knitting, drawing, and painting were conducted as extra-curricular activities in the local girls' schools selected in the Surkhroad District of the province as part of this project.
"My higher education is now ensured which will help me become a doctor so I can further support my family and the community."
Diana, a student at the Peer Sayed Hassan Gailani High School in Surkhroad, and recipient of the skill based classes on embroidery handicraft has benefited immensely from these activities. One of her handicrafts was selected as the best piece by the panel of judges at the school competition. Diana started receiving numerous orders for making hand embroidered garments and other accessories from many schoolmates, teachers, and community members.
"I am really thankful to the Girls' Education Project because it provided me the opportunity to introduce my skills to a wider audience. I, myself, did not realize my hand embroidery skills until I was appreciated by the judges' panel and skill based class participants. That is when I recognized my skill and decided to further improve it and use it as an income source."
Today, Diana has four female students from her neighborhood, to whom she teaches embroidery skills at her house, along with making products on order for other clients from the community. Diana plans to establish a handicrafts business center with other women from the community, in the future.
Diana further added, "I am very happy and hopeful for my future because my father has advised me to save my income generated through these sales for enrolling in university instead of contributing for household expenses. My higher education is now ensured which will help me become a doctor so I can further support my family and the community."
Our girls' education project began in 2009, with an aim to increase girls' enrolment in school, enhance teachers' capacity, and encourage community involvement in education, gender equality, and economic growth.