Access to Needed Health Care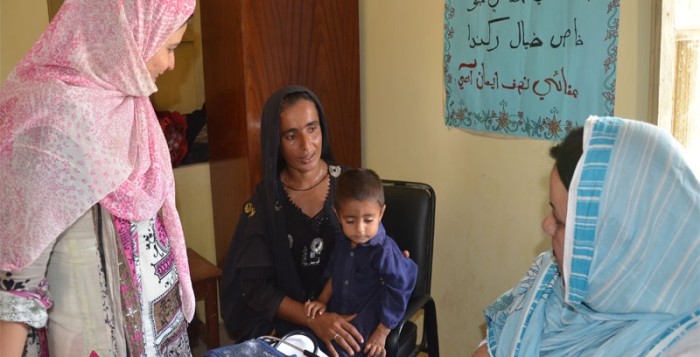 In May, Makani brought her six year old daughter, Wazeera, to CWS-P/A's Mother and Child Health Center in Thatta District, Sindh Province for treatment. She shared that her daughter frequently becomes ill; this time she received medication for a high fever.
While some community members pay 10 -20 rupees (USD 0.11-0.20) for public transportation to reach the center, Makani walked one hour to reach the center. Makani recalled that previously she had taken her daughter to Daro City and paid 200 rupees (USD 2.04) for an injection to treat Wazeera's fever at a local hospital. She said, "We did not have money to go there again; that is why we came here."
Dr. Shazia, who treated Wazeera, commented, "People have difficulties with going to the city for treatment. There are no facilities in the village." The increasing summer heat is one factor in the higher incidences of skin diseases, diarrhea, and acute lower respiratory tract infections. The number of consultations since the inception of the project has nearly tripled. To this the doctor adds, "People hear from others about their treatment experiences at the center. Then, they tell others. They also receive medicines that are otherwise expensive for them to purchase." In addition to free medicines and quality consultations, weekly health and hygiene sessions conducted at the center focus on prevailing diseases in the area and are contributing to an increase in health awareness.
Between January and mid-May, nearly 2,800 medical consultations were performed. The center offers access to a basic right as well as hope to the families whose daily struggle to survive below the poverty line poses many challenges. CWS-P/A's staff associated with the project commends the services of the doctor, lady health visitor, and dispenser present at the center. "They are the heroes working for the community, giving them personal advice in taking better care of themselves and their families, and providing psychological support."