A Year Later: One Piece at a Time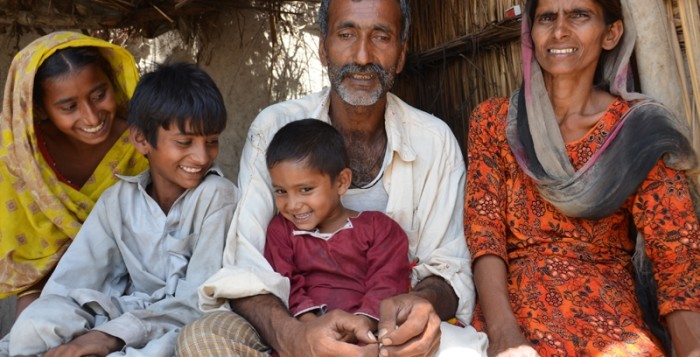 MALAR SHEIKH VILLAGE, KHAIRPUR DISTRICT, PAKISTAN: It was back in late August 2010 when Church World Service –Pakistan/Afghanistan first assisted Iqbal, a landless farmer, who goes by only his first name, with emergency food assistance. Iqbal shared that five acres of his cotton crop were destroyed by the massive flooding causing him an indebtedness of Rs. 50,000 (US $ 582) to the landlord.
For forty-one year old Iqbal, getting rid of the debt was among the most important of all his worries while simultaneously coupled with the fact that his children were repeatedly falling sick during the onset of the catastrophe.  The floods had completely destroyed his house filling the premises with four feet of water.  Neither he nor his family members were spared from skin rashes brought on by the contaminated flood waters.  A year later, Iqbal shared, "I have a tumor in my back for which I have been told that I require surgery. I got to know this a month ago from the doctor in the city, and it will cost between Rs. 25,000 and Rs. 30,000 (US $ 291 – US $ 349). I am not even considering getting the surgery done because I do not have money."
The family had made their escape on a raft-like structure put together from pieces of bamboo wood, which had formed the outside roofing of Iqbal's house.  Along with other community members, the family resided in a camp located in the union council of Agra for two and a half months. Iqbal shared, "Living in the camp was like living in a cage because we were surrounded by water, we were scared of snakes, and there were too many insects. We were constantly worried because we had no sense of safety."  Glancing at the receding waters Iqbal made trips back and forth to check whether he and his family could return back to the place they called home.  It took him an additional two months to rebuild his house with wooden sticks, straws, and mud. "I first made a sheltered room for my children as I had concerns about winter," shared Iqbal.
CWS-P/A's, along with implementing partner, Participatory Village Development Programme (PVDP), flood response included food, nonfood, and medical assistance for the twelve member family. With sincere appreciation, Iqbal said, "Until now, this has been the best food packages in terms of quality and quantity which can support for us for a month and even more. I do not have to take a loan for my monthly ration now." In further discussion he said, "The mobile health unit has assisted my daughter in her hearing problem which only began after the floods." Twelve year old Bakhtawar is still in need of medical attention for her inability to hear properly. "We have visited the doctor who said he will clean out the ears and let us know if a hearing piece is needed. I do not have money for this either and do not know how much it will cost," said Iqbal.
When CWS-P/A's rehabilitation initiatives began, Iqbal was quickly selected among 2,500 flood survivors in Sindh to benefit from a agricultural input distribution through voucher scheme worth Rs. 15,000 (US $ 174). As per his needs, Iqbal redeemed his vouchers on the assigned market day for a wheel barrow, fertilizer, spray machine, seeds (okra, ridge gourd, and coriander), sickle, and spade. With a smile on his face, he said, "I was then left with Rs. 40 (US $ 0.47) in cash. With the assistance, I planted five acres of wheat and got rid of my debt. I just have one bag of wheat now left for my family," shared Iqbal.  "It is all on God and how He helps us."
When asked what his future plans were, Iqbal answered, "I do not see a clear picture for me or my family. My only source of income is working on the land, and I know I can also earn some money through a bit of unskilled labor related work." Iqbal's forty-year old wife, Sahat, supplements family income by making bedcovers for community members. These sell for Rs. 500 – Rs. 1,000 (US $ 5.8 – US $ 11.6) per bedcover. Families including Iqbal's are deprived of future planning with a lack of resources as they live one day at a time. A year later, flood affected families in Pakistan are recovering despite the every-day challenges. Piece by piece communities are trying to rebuild what the devastating floods so easily took away.