A Mother Worries What Lies Ahead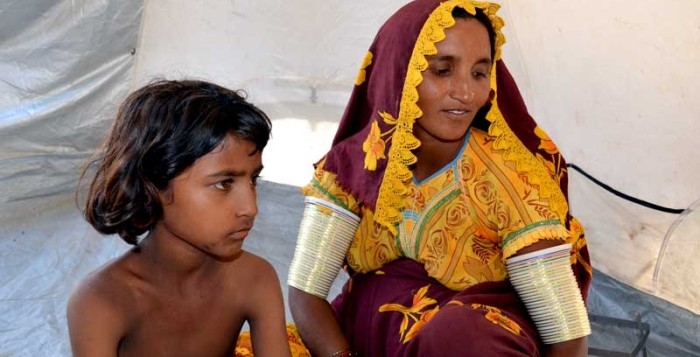 MIRPURKHAS DISTRICT, SINDH, PAKISTAN: "My mother-in-law is a midwife. She will assist in my delivery, but if there is going to be an emergency, I do not know what I will do?" says Thezu, from flood affected Prem Nagar Village. With a lesser preference for doctors assisting with the delivery of babies, Thezu shared that three of her five children were delivered by her mother-in-law.

An estimated 300 maternal deaths per 100,000 live births take place each year in Pakistan, and the country's infant mortality rate stands at 63.26 deaths per 1,000 live births. No doubt remains that such preferences contribute toward high mortality rates coupled with financial constraints, lack of lady health workers and female doctors, and destroyed health facilities. In her eighth month of pregnancy, Thezu has five children and is among 120,000 expecting mothers in the flood affected province.
Twenty-eight year old, Thezu has not only lost her house, livestock, and everything she had in the floods but is also coping with the loss of her twenty-two year old sister. Thezu's sister drowned in the village's water pond during evacuation. With only a month left before Thezu gives birth to her new born baby, the onset of winter poses a greater challenge along with the need for baby food and supplies and proper nutrition for Thezu.
Narrating the concerns of other women from her community, Thezu shares, "It is a risk we take to go bathe and use latrine facilities. The water filling points for clean water are very far. The area we are living here on belongs to someone else. It is all a big risk."
Thezu shared, "Our house has fallen, and we were only able to save a few dishes. We heard that our village still has eight feet of water and we are unable to recognize anything there. We think about our children and when will we go back. My husband, Mavo, is a primary school teacher, and these days he does not have a job because the school is destroyed." Thirty-two year old Mavo is also a farmer who grows wheat and chili on two acres of land which he says no longer exists.
With a lost monthly income of 5,000 rupees (USD 55.55) from teaching and a lost supply of food, Thezu and Mavo both know that the coming months are going to be very difficult. Residing in a camp among fifteen other families, the couple estimates that these will be their living conditions for the next four months until floodwaters recede. Before then, the couple will also have given birth to their child whose survival remains subject to numerous risks.
While the family is without food, clean water, and medical assistance, the present situation remains harsh for them and all those homeless and displaced by the catastrophe. Exposed to hunger, disease, and high levels of insecurity, families in Sindh require immediate aid. Expecting mothers like Thezu require maternal and child care and delivery and baby kits which at present are among other unaddressed needs.
Humanitarian organizations including CWS-P/A are assisting affected communities in flood affected districts while adhering to humanitarian standards and humanitarian principles. In Mirpurkhas and Umerkot, CWS-P/A plans to provide almost 600 metric tons of food to 2,000 families. Food packages contain culturally preferred items such as pulses, wheat flour, iodized salt, baby food (Cerelac), and cooking oil in quantities sufficient to meet daily calorie, fat, and protein intake needs for the average size family. CWS-P/A also hopes to provide mobile health services in four districts, which depend upon receiving financial support from the international community. Without immediate humanitarian response, women such as Thezu and their unborn children may become a statistic for infant and mother mortality—one that could have been prevented.