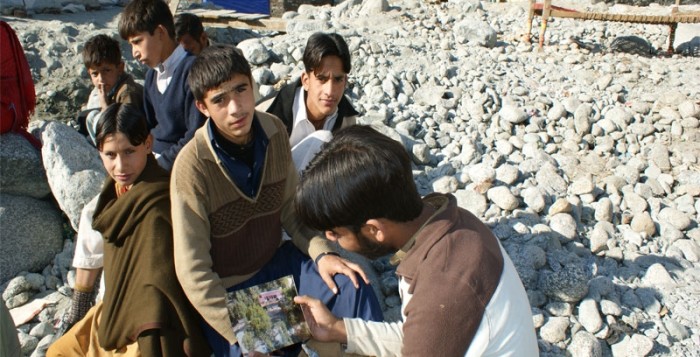 Floodwater receded approximately six months ago in most areas of Pakistan, but the debris, homelessness, and jobless conditions persist. For many survivors from the northern areas, the winter has nearly passed without proper shelter, warm clothes, or heating facilities. Millions of people received some form of assistance since the onset of floods, but there are still areas where no assistance reached. Despite compassion and support from the international community, there were not sufficient resources mobilized quickly enough to reach all affected communities. As families struggle to find the means to rebuild their lives, life continues one day at a time. For some, it is a struggle to clear agricultural land. For others, access to food and proper shelter remains an unknown possibility. Illness, without access or resources to access health facilities, plagues thousands of individuals.
When the humanitarian response began nearly seven months ago, no one expected that by this time the affected population would be so much better off than it currently is. Thousands of organizations and individuals dedicated their time, effort, and financial resources to provide aid and services to the affected population. With more financial and human resources, the humanitarian response could have made the struggle a little easier for more families, but the survival and recovery challenges would have still existed on a large scale. The reality is that nearly twenty million people, a majority of whom were already struggling to meet basic necessities, were affected, and many lost everything. More than 1.7 million homes were damaged or completely destroyed, and over 2.2 million hectares of crops were lost. Without homes, sustainable income or self-sustenance, and access to food and good nutrition, the people must search, create, or wait for some kind of miracle.
This miracle, however, is becoming a reality for some families. Humanitarians, even recently, continued to provide emergency relief in terms of shelter, food, drinking water, and health services. At the same time, concerted efforts to work with communities to rebuild infrastructure, restore agricultural lands, and create income earning opportunities are underway.
The road ahead is not easy for the affected communities. For many, it is not about recovering from a flood that happened seven months ago. It is about recovering from a series of unimaginable setbacks on a long road to recovery…floods, droughts, earthquakes, and conflict.
The resilience of the Pakistani people should be acknowledged; however, the reality of the current situation should not be denied. With dignity and commitment, humanitarian agencies should work together for sustainable recovery and solutions to recurring problems. Attention must be placed on accountability, quality, and disaster preparedness. This is not the last flood or natural disaster that will affect this country, but ways exist to minimize the number of affected people and the severity of destruction from future disasters.