"A Family Brought Closer By Floods"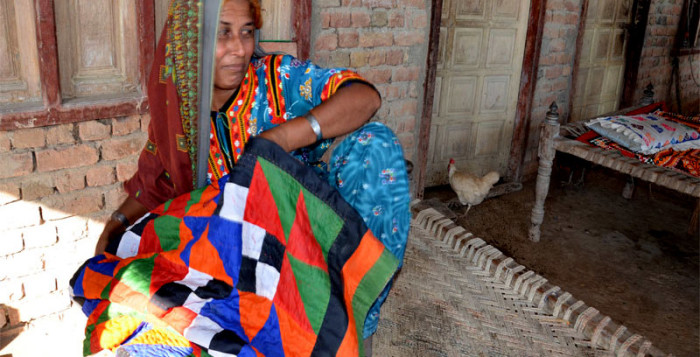 Khan Mohammad Lashari Village in Mirpurkhas District is a depiction of devastation with fallen houses, dead plants, and ruined gardens across its landscape. However, hope still grows in this rural village. It is here that Mohammad Hassan and his sister, Jannat, have been reunited under one roof, where they both face great losses and express hopes for improved conditions. Brought closer by the floods, families find the strength to persevere until better days arrive.
The Brother
Months after the devastating floods made their way across Sindh, thousands of people still reside along roadsides in seemingly difficult conditions. The situation for survivors like Mohammad Hassan, his wife, and six children has improved somewhat, owing to the food assistance he received in late October from CWS-P/A. Nearly a month later, the family has just enough food to last for three or four days. The forty year old farmer and his family appreciate the assistance and say that it is very helpful in managing survival.
Farming is all that Mohammad Hassan knows. On eight acres of land, he grows cotton, chilies, wheat, mustard, and a few other vegetables. "I have no work now because I have no seeds and the land is still under about half feet of water. I hope the water will dry so I can cultivate it, but I think it will take as much as two more months." Mohammad Hassan recalled his one month's displacement during which he first lived in a government school building and then moved to the Thar Desert. He shared that he had to take a loan amounting to 6,000 rupees (USD 68.2) for food from a shop during his displacement. Additionally, the farmer shared that he lost three goats, one buffalo, stored seeds, and household items. Referring to missing the wheat planting season, Mohammad Hassan said, "It is difficult to face the situation."
"It will be about four or five months until we can have anything that the land can produce," said Mohammad Hassan with a hint of far off hope in his eyes. His children's education was interrupted, and they still remain out of school because the building substitutes as a camp. In 2003, his village suffered from floods that were of a much lower scale. He recalls that distant time and expresses his hope that his situation will improve.
The food package consisting of wheat flour, pulses, cooking oil, iodized salt, and a match box has prevented the farmer and his family from additional indebtedness. The family benefits from their home cooked meals and having the option of channeling their limited financial resources toward other needs.
Mohammad Hassan, too, should be commended. In his family's time of great need, he reached out to his widowed sister, Jannat, who lost everything during the floods. He continues to provide her and her daughter a place to live, which also means protection and a sense of security.
The Sister
For women-headed households, the situation becomes particularly precarious. Jannat, a fifty year old widow, lives in extremely difficult conditions. She earns a living from sewing, stitching, and seasonal work on the land that includes picking cotton and chilies. Jannat is also the mother of two children in their mid-twenties. Although adults, they are not able to significantly contribute to the household income.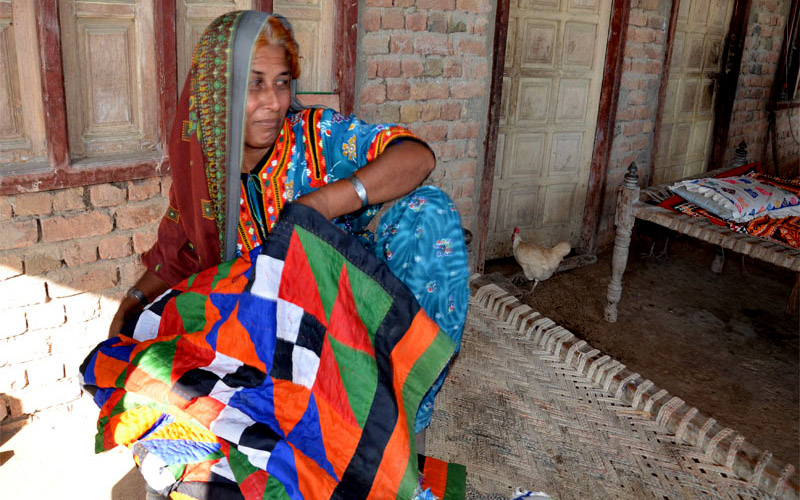 Jannat displays a piece of cloth stitched by herself in Mirpurkhas District. Photo by Donna Fernandes, November 2011
Jannat's hope for the future is better conditions after her son, Ahmad Ali, completes his graduation in the coming month. Twenty-five year old Ahmad Ali resides at the university where he studies, paying for his degree through a part-time job. Her twenty-seven year old daughter, Shama, works as a Lady Health Worker for the government. Shama earns 5,500 rupees (USD 63) after every four months from working seven days per month. Jannat said that she is unable to get Shama married as she does not have enough money to pay for wedding expenses.
After a month of displacement, Jannat returned home to see that her mud house was reduced to rubble. With an average earning of 200 rupees per day (USD 2.27) from sewing mostly children's clothes, Jannat wishes to rebuild her house when she has money. "The house will cost as much as 70,000 rupees (USD 795). We need a house that will withstand the floods." Appreciating the food assistance she received from CWS-P/A, Jannat said, "The food has lasted us for a month. I have food left for another four days." She added, "I also lost my only goat, my utensils, and bed because of the floods." Residing presently with her brother, Mohammad Hassan, she still manages to hold a smile on her face despite having lost everything.
Jannat knows the coming months will not be easy, but a struggle is not new for her. She feels slightly relieved about receiving a second month's food package from CWS-P/A and is grateful to all those who have helped her in her time of need. Her brother's hospitality is no exception.
It seems unlikely that Jannat will move out of her brother's house anytime soon. It is a bittersweet story of loss, hope, and togetherness for which time will tell how it ends. The only certainty for now is that this family will face it together, along with the rest of their community in Khan Mohammad Lashari.