36,285 houses destroyed so far by the earthquake in both Pakistan and Afghanistan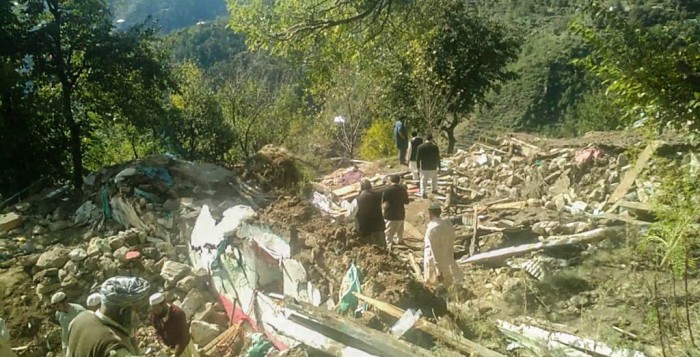 The earthquake that took place on October 26, 2015, has cost 386 precious human lives, left 2,542 people injured with 36,285 houses damaged and rendered inhabitable, leaving the affected families in miserable conditions across the earthquake affected areas of Pakistan and Afghanistan. The earthquake survivors in both the countries are fighting against the extreme cold weather as well as for their basic needs of survival such as food, Non Food Items, livelihood and the like.
The earthquake has caused extensive and devastating damages to the infrastructure, buildings, roads, bridges and telecommunication networks.
Pakistan: A total of 271 people have reportedly died while 2,148 people have been reported injured and 35,785 houses have been damaged due to the earthquake in Pakistan so far. Khyber Pakhtunkhwa being on top of the affected provinces of the country, reports a death toll of 225, with 1,756 being the number of people getting injured and 25,636 houses that have been damaged.
85 aftershocks have been recorded since the major earthquake struck the region in October, 2015. Cold and dry weather is prevailing throughout the earthquake affected regions in Pakistan, making life miserable for the affected communities. The people have no proper protection measures against the cold weather, are living in a state of emergency – desperately in need of winterization kits and shelters support. Those who have lost their houses have lost everything under their roofs, including food stock as well as other household items which could also lead to malnutrition as well as health and hygiene concerns among the affected communities.
Winterization support, shelter, food, NFI and health interventions have been identified as the top needs of the affected communities which require immediate attention.
Afghanistan: Initial reports indicate damaged homes and potential casualties across northern, central and eastern Afghanistan, impacting 13 provinces (102 districts) in total. Badakhshan, Nangarhar, Kunar, Laghman and Nooristan provinces are the most affected. Approximately 6,900 families have been affected by the earthquake, with 84 individuals killed and 394 injured across Afghanistan.
The main needs of the affected population are basic household supplies, blankets, tents, hygiene kits and shelters for those whose houses have been completely destroyed. Access in some of the affected areas remains a challenge due to difficult terrain and security concerns.
Response by Community World Service Asia: Community World Service Asia's Emergency Health Response team is currently providing health services through Mobile Health Unit in District Shangla. The unit is supported by Mobile Laboratory for diagnosing the diseased through diagnostic tests. The unit has so far conducted 510 consultations in the three union councils of Kuz Kana, Shahpur and Malak Khel of district Shangla. It includes 275 male and 235 female patients. Apart from this, 28 lab tests have also been carried out in these three union councils.
Provision of Emergency Winterization kits and food are the other proposed assistance methods by Community World Service Asia, scheduled to start very soon. The current target districts for response are Shangla and Swat while the response will be extended to other districts, subjected to needs and the availability of funds.
Community World Service Asia's Emergency Response Teams are currently conducting assessments in Afghanistan and the response strategy for Afghanistan is to be drafted in line with the needs identified in the assessment.
Kindly read the attached document on "Key Messages on Quality and Accountability during Humanitarian Response to Earthquake Affected Communities," and share it further. Also read our first story from the field at: http://communityworldservice.asia/rain-my-familys-savior/ .
Please follow our live photo update from the earthquake affected areas on our Facebook page at: https://www.facebook.com/communityworldserviceasia/ .
Contacts:
Allan A. Calma
Deputy Director
Disaster Management Program
Email: allan.calma@communityworldservice.asia
Cell: +92 301 5801621
Muhammad Fazal
Associate Director
Emergencies/DRR/Climate Change
Email: fazil.sardar@communitryworldservice.asia
Cell: +92 332 5586134
Nejabat Khan Safi
Associate Director
Disaster Management Program
Email: nejabat.safi@communitryworldservice.asia
Mobile: +93 799 326 628
Palwashay Arbab
Head of Communications
Email: palwashay.arbab@communityworldservice.asia
Ph: +92 42 3586 5338
Sources:
http://www.ndma.gov.pk/new/
http://www.andma.gov.af/
http://www.pmd.gov.pk/
OCHA Afghanistan
IOM Afghanistan